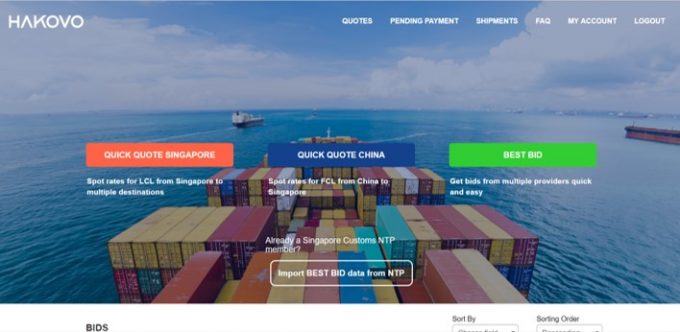 Singapore start-up Hakovo claims to be the first digital freight marketplace to offer an electronic bill of lading (e-bill) for containerised cargo.
The Hakovo Assured e-bill was developed in partnership with E-Title, one of only three e-bill systems worldwide recognised by the International Group of Protection and Indemnity (P&I) Clubs.
"Hakovo Assured eBL will not only provide higher levels of security and increase ease of trade; customers will also see immediate cost savings by eliminating courier service of paper documents across borders," said Hakovo chief executive Takayuki Akahodani.
E-Title chief executive Dorothy Lim added: "The E-Title solution will run on distributed ledger technology (DLT), supporting peer-to-peer, secure and de-centralised title document transfer.
"Together with the P&I approved legal framework, this makes the solution viable to be deployed globally, even in countries where national jurisdictions do not have laws which recognise electronic transfer records."
Its legal backing gives it a distinct advantage over the emerging crop of blockchain-based e-bill solutions, said Mr Akahodani, since they are not yet recognised by the P&I clubs as performing the three functions of a bill of lading: a receipt; a document of title; and a contract of carriage which incorporates the Hague-Visby Rules.
"They may be applying to be included but it could take years," he told The Loadstar.
He said the two companies will deploy the first Assured eBL shipment in the next quarter, and that the "top ocean carriers have agreed to use it if their customers want it".
He added that it would be an "affordable paperless trade solution", but declined to say what it would cost.
Mr Akahodani described Hakovo as a hybrid of Freightos and Flexport – providing shippers, forwarders, NVOCCs and carriers with an ocean freight matching service as well as executing "e-forwarder" services directly.
The platform focuses on Chinese exports to Singapore and Indonesia, although it will eventually cover all of the ASEAN region, with Chinese NVOCCs and shipping lines providing freight rates through an API.
By integrating the Assured eBL, as well as China and Singapore customs clearance solutions, Hakovo plans to help SME forwarders with their digital offering.
"We're not competing with most freight forwarders, only the big multinationals," explained Mr Akahodani. "We're actually collaborating with local SME forwarders and the shipping lines directly.
"We connect local forwarders who want to buy space through Hakovo then sell to their customers. More than 85% of SME forwarders don't have any online or quick quotation systems, so they really benefit from booking the space through us."
Hakovo is backed by terminal operator PSA through its investment incubator, PSA unboXed. Mr Akahodani said PSA's support would be key in helping Hakovo expand globally, as the company plans to extend coverage to tradelanes within PSA's global terminal portfolio.
He said there were "several" shipping lines and 52 NVOCCs providing freight rates.
However, with the company in the midst of adding new tradelanes, the number of NVOCCs on the platform will soon jump to 1,000, Mr Akahodani claimed.