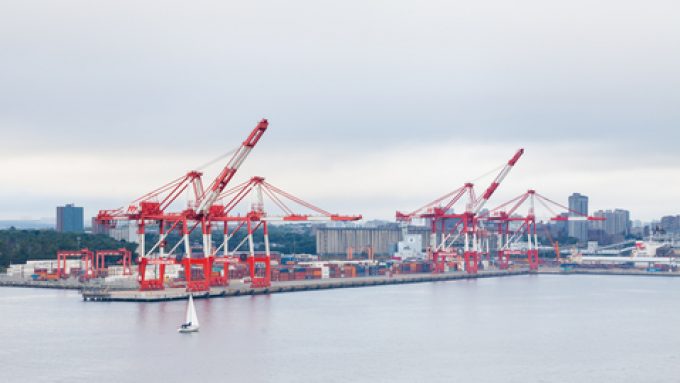 Competition for box traffic is in full swing on Canada's east coast.
The port of Halifax narrowly missed the 600,000 teu mark in 2021, but last year went over this threshold, clocking up 601,700 teu of throughput.
This small increase – up from 595,751 teu in 2021 – came despite significant leakage to the port of Saint John, which was on course to nearly double its tally last year.
Halifax's management stressed that collaboration with ocean and rail carriers, terminal operator PSA and labour was the reason for the success.
Capt Allan Gray, president and CEO of Halifax Port Authority, said:  "In 2022, we started using the Joint Operation Centre for containerised cargo operations and that helped find new efficiencies and maintain cargo fluidity, with no vessel berthing delays during a second year of sustained supply chain disruptions."
Dan Bresolin, VP intermodal, at CN, added: "Through strong collaboration with PSA, Halifax Port Authority and our mutual customers, there are many more opportunities ahead to further grow the Halifax gateway."
Operators are investing in capabilities to handle future growth. PSA ordered two super post-panamax cranes last year, which are due to arrive early this year, which will bring the terminal's line-up to seven. And eight Konecranes are due to arrive in 2024.
In addition, the terminal operator is investing this year to increase yard handling space, improve efficiency and sustainability.
The port obtained C$7m (US$5.228m) from Ottawa's National Trade Corridors Fund last year toward the establishment of a new on-site container examination facility outside the port. This should reduce turnaround times and reduce congestion. The port is shouldering the balance of the C$15m price tag.
Halifax is facing rising competition from Saint John, one of the fastest-growing ports on the east coast. By the end of September, the New Brunswick port celebrated box traffic passing the 100,000 teu mark – well over the 87,000 teu  for the whole of 2021 – and the port authority estimated its throughput for the year should be close to 150,000 teu.
Saint John has seen container throughput soar since Canadian Pacific got access to the east coast in 2020 with the acquisition of Central Maine & Quebec Railway, which led to a rise in container sailings. More growth is expected since CSX bought Pan Am Railways last year, which made it the third Class I railway (besides CP and CN) with access to the port.
And Saint John is aggressively ramping up capacity: a C$205m project will double it, from 150,000 to 300,000 teu. This involves a terminal upgrade and expansion of berth and channel, with a second container berth  expected to be ready this year.
Last May, the port obtained C$84m funding from federal and provincial governments, which will go toward further expansion of capacity, to 800,000 teu. Half of the money will be used to beef up lay-down capacity at the West Side Terminal.
Terminal operator DP World, which started operations at St John in 2017, last year ordered two super post-panamax cranes, reach stackers, internal transfer vehicles and container trailers, as well as announcing investment in an upgrade to the terminal operating system, a new truck gate system and new financial management systems.
However, for all this momentum, Saint John has a long way to go to get near Halifax. It is served by just three lines, Hapag- Lloyd, CMA CGM and MSC, while Halifax can boast 17 of the world's largest operators, including MSC, Maersk, Ocean Alliance and Zim, with connections to more than 150 points on the globe.
Still, the expansion of rail access to the US market, as CP is poised to merge with Kansas City Southern and possible moves by CSX, promises further impetus to route boxes through the New Brunswick port.