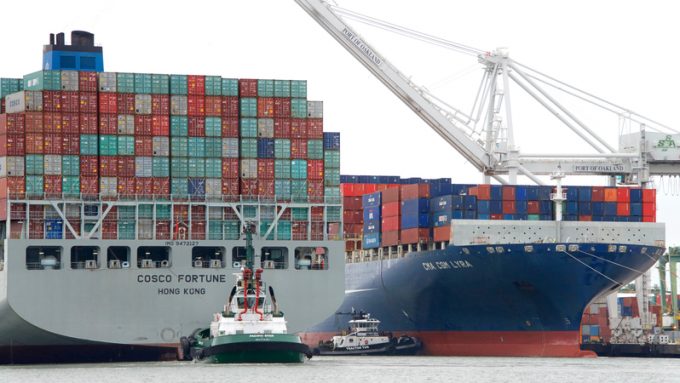 Cosco, Hapag-Lloyd and CMA CGM have come together with terminal operators to form a new digital shipping initiative – the Global Shipping Business Network (GSBN).
It is described as a "not-for-profit joint-venture to accelerate the digital transformation of the shipping industry".
Other signatories to the services agreement, now heading to regulators for antitrust clearance, include Cosco Shipping Ports, Hutchison Ports, Cosco subsidiary OOCL, the port of Qingdao, PSA International and Shanghai International Port Group.
OOCL's technology arm, CargoSmart, will develop software solutions and provide tech support to GSBN.
"The GSBN intends to provide a platform for all shipping supply chain participants to work collaboratively to accelerate technology innovation and develop solutions through trusted and secure data exchange platforms," Cosco said.
While the current signatories are shipping lines and terminal operators, it is envisaged that other players in the shipping industry "may wish to join the GSBN or otherwise benefit from the innovative solutions it develops", it added.
CMA CGM executive vice president of IT & transformations Rajesh Krishnamurthy suggested the GSBN would be developing blockchain solutions.
"In line with our customer-centric and digital-first approach, the CMA CGM group is committed to facilitate increased transparency and to spur innovation with the entire supply chain ecosystem. The GSBN blockchain consortium provides us a concrete opportunity to bring greater value for our customers and the supply chain as a whole."
CMA CGM recently joined the IBM/Maersk-led blockchain consortium, Tradelens, as has another of today's signatories, Hapag-Lloyd.
Martin Gnass, managing director of IT technology at Hapag-Lloyd, explained: "Once it is established, the GSBN will work, with its JV structure and strong carrier and terminal participation, to increase efficiency in cross-network operation for the benefit of the various stakeholders in our industry."
Cosco added that it expected the GSBN to formally be established early next year, "subject to obtaining all requisite anti-trust, competition and regulatory approvals".
It added: "In the interim, as part of the process of preparing for the formation of the GSBN, CargoSmart will run pilot applications that test the viability of the GSBN. For example, initial preparatory efforts to explore and test the feasibility and value of using blockchain technologies are underway and showing promise."