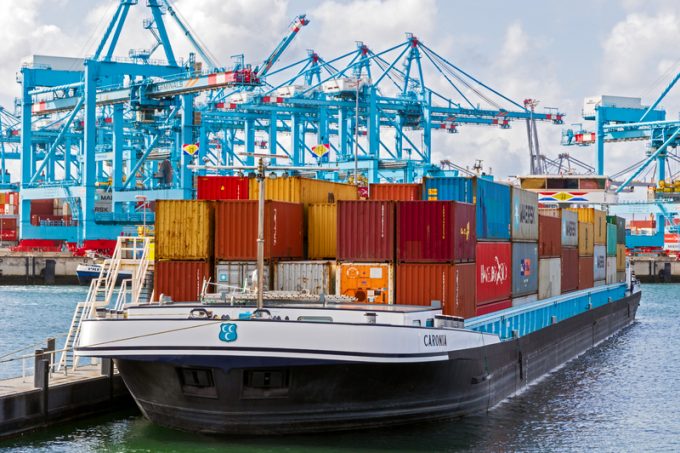 Storms and shipping surcharges are heaping misery on cargo owners waiting for freight on Northern Europe's beleaguered inland waterways.
Over the past fortnight, wait times at Rotterdam's barge terminal have more than doubled, to 77 hours and, while Antwerp's congestion has decreased slightly, shippers are still waiting more than a day for any sign of their cargo out of the Belgian port.
SeasC4U's Gunther Ginckels told The Loadstar he had been acting as a "confessor, allowing barge owners to ventilate their frustrations" at the way the ports are being operated.
"Congestion at these terminals isn't new, I addressed it in 2014, and since then flows have increased, with terminals unable to process the volumes because berth capacity for inland navigation operations has not increased by even a metre," said Mr Ginckels.
"Adding to the problems is the barge operators' – not to be confused with barge owners – blunt refusal to work together to optimise capacity and anticipate flow imbalances."
According to Mr Ginckels, who acts as a consultant for European ocean transport, ultra-large container vessels unload an average 3,000-5,000 teu destined for inland navigation per call at Antwerp and Rotterdam.
He said the refusal to collaborate was leading to 50% of barges on Antwerp- or Rotterdam-Rhine-Ruhr routes sailing empty.
Barge operator Contargo moves approximately 50,000 containers a month on around 40 barges and informed customers on Tuesday of the delays.
And, compounding shippers' problems, also on Tuesday, Maersk announced surcharges for inland traffic in Belgium, the Netherlands, Luxembourg, Germany, Austria and Switzerland of €10 per container for barge, intermodal and rail loads, and for road, it will be €25 per container. The surcharges are expected to be in place at least until the end of June.
Hapag-Lloyd is also set to introduce a €25 inland surcharge to and from German ports and Mr Ginckels said he expected other large carriers to follow suit.
"With the block-inflow of containers after Suez, European container ports have reached their maximum storage and handling capacity. Antwerp's ocean terminals, I learn, are close to 99% fully stacked, and there is no room for movement.
"Congestion is further aggravated by carriers, which after having dumped almost their complete load, are sending ships back to Asia to collect export containers piling up for weeks.
"None of this is new, and the Suez incident is a festering mass of pus, now bursting open, and none of the involved parties – carriers, terminals, intermodal truck, rail and barge operators – take responsibility, instead simply add another item to their invoices."
Congestion at inland waterways is nothing new to European shippers. On May 2018, the situation reached breaking point, with shippers experiencing delays of up to a week, forcing Antwerp to introduce a new barge traffic system to alleviate the congestion that had gripped it for several years.
However the new system "failed" to deliver.
"You can put a zillion barge traffic systems on the market, but if you don't have berth capacity to host the barges, these systems have zero impact, and measures like limiting access to barges with fewer than 25 moves to berth at ocean terminals also failed," said Mr Ginckels.