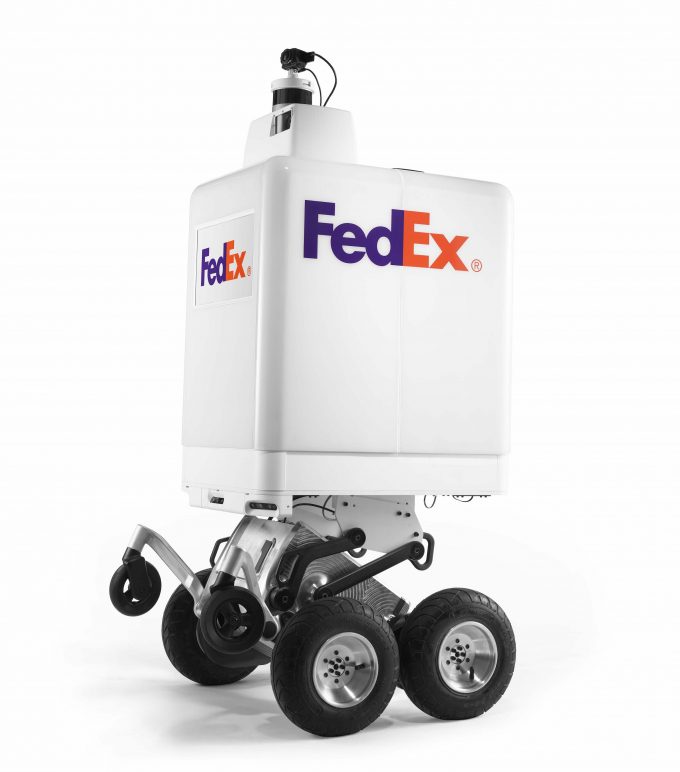 FedEx today launched its new cutting-edge robotic last-mile delivery solution – the FedEx SameDay Bot.
It said it was collaborating with AutoZone, Lowe's, Pizza Hut, Target, Walgreens and Walmart "to help assess retailers' autonomous delivery needs", given that according to some estimates, up to "60% of merchants' customers live within three miles of a store, demonstrating the opportunity for on-demand, hyper-local delivery".
The FedEx bot is being developed in collaboration with DEKA Development & Research Corp and its founder Dean Kamen, who invented the Segway and the iBot personal mobility device.
"The bot has capabilities that make it unlike other autonomous vehicles," Mr Kamen said.
"We built upon the power base of the iBot, an advanced, FDA-approved, mobility device for the disabled population with more than 10m hours of reliable, real-world operation. By leveraging this base in an additional application, we hope the iBot will become even more accessible to those who need it for their own mobility."
The FedEx bot is designed to travel on pavements and along roadsides, safely delivering smaller shipments to customers' homes and businesses, and FedEx plans to test it this summer in select markets, including its corporate home of Memphis.
https://www.youtube.com/watch?v=N0rt_HB7vd4
John Mulligan, chief operating officer of Target, said: "We continue to invest in new technologies and capabilities that make Target the easiest place to shop. We're excited to be collaborating with FedEx to explore how autonomous robots could enhance delivery services and more."
Meanwhile, e-commerce players are also increasingly turning to robots to solve the dilemma of high costs on the final mile. Amazon is running trials with a small fleet of delivery robots, while another leading player is preparing a pilot project on the campus of George Mason University in Fairfax, Virginia.
However, the final-mile sector is also littered with casualties and failed experiments: DP-DHL sold its Allyouneed Fresh online marketplace in September, abandoning an effort that saw a triple-digit million euro spend on marketing; Foodora pulled out of France, Italy, the Netherlands and Australia; and Deliveroo curtailed its activities in Germany.
In North America, Walmart's partnerships with Uber and Lyft to cover the last mile to consumers had to be abandoned.
The final mile hits carriers' bottom line – the Crowdsourced Delivery Report from Business Insider Intelligence notes that last-mile delivery accounts for 53% of overall shipping costs.
This is exacerbated by consumers' expectation of free delivery within relatively short windows, while worsening traffic congestion drives up urban delivery costs.
Texas's department of transportation found costs for trucking firms related to congestion in six major urban areas in the state rose from $1bn in 2013 to $6.3bn three years later.
Walmart was one of the firms that looked to crowdsource delivery models to rein in delivery costs. However, neither the programme, under which its own employees delivered parcels on their way home after work, nor partnerships with Uber and Lyft have been successful.
Amazon management believes robots are the key to bringing down costs on the final leg. Since late January it has been trying out its own delivery robot, dubbed Scout, in Snohomish County, close to Seattle. The units are the size of a small cooler and equipped with six wheels. They move at a walking pace and during the trial phase are accompanied by humans.
Robots are rolling out for delivery elsewhere too. Starship Technologies, a producer of delivery robots, is currently preparing for a pilot programme to deliver food at the George Mason University in Maryland, serving a campus of about 40,000 students. The pilot is conducted in partnership with food service provider Sodexo.
Starship envisages its robots operating around local hubs, which can be fixed locations like storefronts or warehouses or trucks that carry multiple robots. It is no coincidence that one of the lead investors in the San Francisco-based company is Germany's Mercedes-Benz. Last year Starship ran trials that involved Mercedes Sprinter vans serving as mobile hubs for up to eight of its robots.
However, Starship and Mercedes-Benz are set to face competition from the automotive industry. At the Consumer Technology Association's CES trade show in January, Continental, an automotive supplier, showcased its concept of four-legged delivery robots called robodogs, which are carried to the destination area on board an autonomous vehicle called CubE (Continental Urban Mobility Experience).
The company boldly predicts that automated deliveries could grow to account for as much as 80% of all B2C deliveries.
Predictions of that kind failed to convince DHL, which buried its 'PostBOT' robot, capable of carrying loads of up to 150kg including postmen. According to DP-DHL chief Frank Appel, the technology may work well, but the units are too expensive.