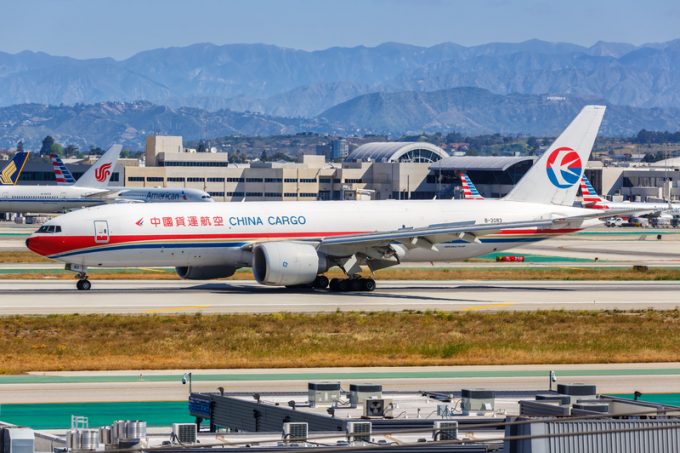 A big uptick in freighters landing at major US gateways is putting pressure on every link in the supply chain, creating "great opportunities" for smaller cargo-focused airports.
According to Robert Fordree, EVP cargo at Menzies Aviation, with Covid bottlenecks easing at Chinese hubs, the number of freighters heading to the US has quadrupled, in some cases.
"In Dallas and Los Angeles, we are seeing a massive influx of cargo, from two or three freighters a week to 10 or 12," he said yesterday at the Air Cargo Handling Logistics Digital Conference.
"That's adding huge pressure on the warehouse capacity we have available to us."
For example, he said, a lot of LA's cargo volumes needed to be trucked to other ports, but there's a lack of drivers to handle the loads. In turn, there's pressure on forwarders to collect cargo quickly, but their facilities are full, too.
"It's creating all sorts of logjams," added Mr Fordree.
Thomas Mack, EVP global air freight for DHL Global Forwarding, said LA was the "perfect example" of an airport that hadn't invested in cargo infrastructure.
"I used to work there in the late '80s and nothing has changed," he said. "And, almost out of desperation, we are looking for, and using, alternatives.
"Honestly, I don't think we will switch back once we are established at these alternative airports, where there is infrastructure more geared towards cargo handling. So it's not just a short-term solution."
Indeed, Mr Fordree added that, while the established gateways hadn't changed their tune, Menzies was now having "much better conversations" with other airports.
He explained: "There's a number of airports that have indeed 'woken up' to cargo; they're making warehousing capacity available and we're working with a number of developers on new builds. When you have import cargo taking longer to be retrieved by the customer than it takes to fly from origin to destination, something is wrong. Which is why other airports will have a really great opportunity to pick up the volumes."
Another trend benefiting alternative cargo hubs is the rise of forwarder-owned capacity, given the continued dearth of passenger flights. According to WorldACD, capacity is till around 20% below 2019, while demand is just as high.
Peter Penseel, COO airfreight, said Ceva Logistics didn't necessarily want to operate its own flights, but it had needed to inject capacity to serve its customers.
However, he added: "If we operate our own freighter, we can fly to airports we believe can turnaround the aircraft in two-to-three hours, rather than having to wait five, six or seven hours before they even start unloading."