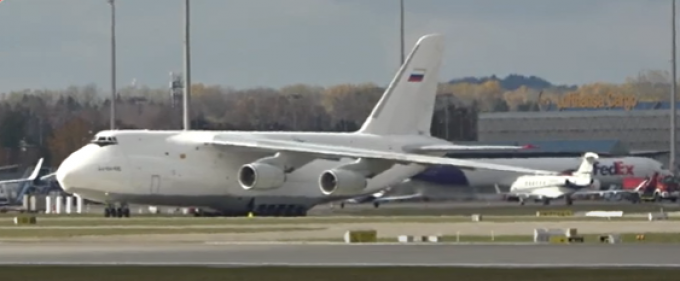 A Volga-Dnepr AN-124 made an emergency landing at Tolmachevo Airport in Novosibirsk, Russia this morning, and suffered extensive damage.
The aircraft had made a technical stop at the airport, but returned immediately after take-off, overrunning the runway by some 200 metres with collapsed gear.
Ground witnesses reported right hand engines three and four were trailing smoke on departure, while communication with the aircraft was lost, according to Aviation Herald.
There were 14 people on board but there were no injuries. However, the aircraft suffered "substantial damage to wings and the landing gear, while engine two is missing its engine inlet, following an uncontained failure, according to photographic evidence. The inboard left wing slats, as well as the left hand fuselage, were penetrated by debris at multiple locations near the wing root".
A nearby roof was damaged by falling debris, according to witnesses on the ground.
One commentator on Aviation Herald reported that the aircraft, registration RA-82042, had had engine trouble recently at Munich Airport.
While the Herald said there was no cargo onboard, Volga-Dnepr said: "The plane was operating a charter flight from Seoul to Vienna with a tech stop in Novosibirsk with 84 tons of automotive spare parts. The airline's technical support crew with essential equipment immediately flew to Novosibirsk to evaluate and rectify any consequences."
"We are cooperating with the aviation authorities and Novosibirsk Airport with respect to this event and will thoroughly analyse the situation accordingly," said Igor Aksenov, general director of Volga-Dnepr Airlines.
One commentator on the Herald said the pilots had done a "good job" in getting the "wounded" aircraft back on the ground.
You can see photos and video on the Aviation Herald here.