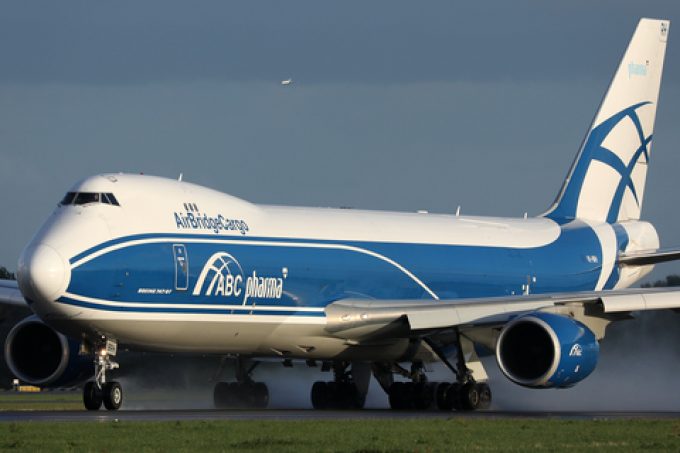 Volga-Dnepr Group is considering major staff cuts, after it appeared to have grounded all but two of its aircraft.
Even its aircraft with European operating certificates are not flying.
The UK's Cargologicair, which has two 747-400Fs, and Cargologic Germany, which operates four 737Fs, haven't flown since Friday, and one of CLA's 747Fs is in Los Angeles, the other five aircraft are in Europe.
Only two of its 12 AN-124s are operational, currently, with one in Dhaka and one flying between Russia and China.
AirBridgeCargo's fleet of 747s also appears to be grounded, with three aircraft that were still flying in Asia, currently in Moscow, according to Flightradar24, with the last arriving on Sunday.
While sources said the carrier had been desperately trying to find ways of operating legally, sanctions applied by lessors could see it lose the bulk of its fleet.
Ireland and Bermuda, which list most of Russia's aircraft on their registries, have suspended all certificates of airworthiness for Russian-operated aircraft, following manufacturers' pledges to stop providing parts, maintenance and support. AirBridgeCargo's 18 freighters are registered in Bermuda.
But yesterday, Russia reacted with a law to allow its airlines that lease aircraft from foreign companies to place them on the Russian register – meaning they can still fly domestically. It was not good news for lessors, which have a 28 March deadline to repossess the aircraft.
"This is just the worst possible outcome, one Irish lessor told the Irish Times. "This is an irresponsible dictator-autocrat at work now lashing out at the west."
However, media reports and airline sources suggest that some of Russia's airlines are wary of keeping the aircraft and falling foul of lessors they may need in the future. Many would prefer to return aircraft.
AirBridgeCargo has 13 aircraft on lease, according to databases. At least four 747-8Fs are leased domestically, from SberLeasing and Volga-Dnepr Airlines. The foreign lessors are Aircastle (2 aircraft), Aviation Capital Group (1), BOC Aviation (3), Gecas (2) and DAE Capital (1).
Sources at the airline, which is said to be devastated by the turn of events, said it had been looking at all possible ways to comply with sanctions yet try to operate. Now it is considering major staff cuts, leaving just a few pilots on the payroll.
One executive said: "We are an extremely creative company, but anything we do has to be clean. It cannot be dirty, it must be legal. We have lots of working groups to try to find solutions and we are in discussions with lessors. But it's going to take a while to figure out what we can do."
ABC is thought to have a large stock of spare parts and has line maintenance in Russia. It also has a war chest of cash, built up during the past two years, and bank accounts globally.
Sources at the airline said customers had largely been sympathetic, but must comply with the law.
"People have been loyal, and said they will do what they can, when they are able."
There is inevitably frustration among the group, which employs some 3,500 staff, of which 2,500 are international and employed outside Russia.
"What has been really annoying is that the sanctions are blanket, they don't take into consideration what we do. We are privately owned, with no state funding and most employees are not Russian. We do a lot of humanitarian work and have done no military movements for five years. It's been apolitical, and the owner [Alexei Isaykin] does not get involved in politics.
"Politics always comes back and kicks you in the arse."
The source also acknowledged that even if the war came to an end, it was likely that sanctions wouldn't. But its greatest problem now is how to retain aircraft and operate them. And such is the capacity shortage in the market, you can be sure freighter airlines are lining up to try to re-lease ABC's hard-won fleet.