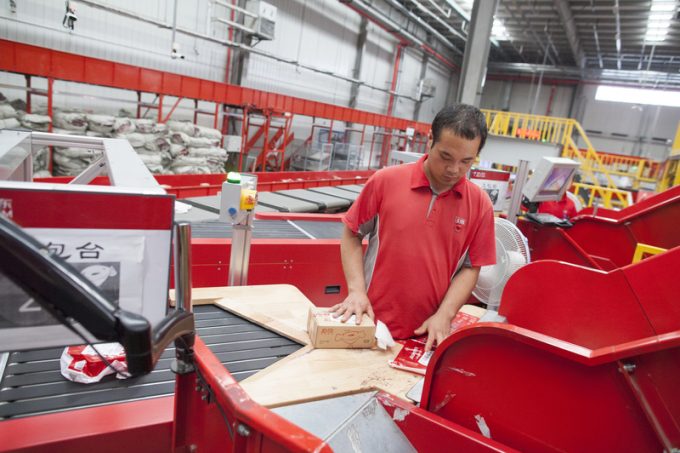 Asia's online retail revolution is driving major increases in logistics real estate investment, but a shortage of suitable e-commerce warehousing remains.
According to data compiled by property consultant Knight Frank, this year has so far seen China record a 52% year-on-year jump in e-commerce-driven real estate development.
South Korea and Taiwan trail with respective increases of 17% and 12%; while Japan, India, Hong Kong and Singapore have each recorded 7% growth.
"Over the past 10 years, APAC e-commerce-related real estate investments have a 36% CAGR [compound annual growth rate], which is very healthy and expected, given the e-commerce boom," explained Nicholas Holt, head of research at Knight Frank Asia Pacific.
"Recent e-commerce booms in China, led by Alibaba and JD.com; in Korea by GMarket; and in Singapore by Lazada have all accelerated investments in recent years."
Indeed, Alibaba has announced a string of large warehousing investments this year, through its logistics unit, Cainiao.
Cainiao will invest US$1.5bn to build a logistics centre at Hong Kong International Airport (HKIA) and has plans to establish similar hubs in Dubai, Hangzhou, Kuala Lumpur, Liège and Moscow. In Thailand, a $330m facility is slated for a site close to Bangkok and Laem Chabang port.
According to Mr Holt, this year's other major deals include Malaysian developer Aspen Holdings' $150m investment to build a logistics hub in Selangor and Toll Group's recently opened $167m facility in Singapore.
And a number of new investment funds have been set up to target e-commerce warehousing. For example, logistics developer and manager ESR Cayman announced a $1bn fund to purchase an 800,000-sq metre portfolio of logistics properties across Shanghai, Beijing and Tianjin.
In May, Alibaba rival JD.com invested $306m into ESR, and the same month invested $115m in a 10% stake of Hong Kong-listed China Logistics Property (CNLP).
CNLP is partnering with Jones Lang LaSalle to set up a $300m, five-year fund for Chinese warehousing investment. JLL estimates China's modern warehousing is just a quarter of US capacity.
Further investment was announced this month by Singapore-based GLP, Asia's largest warehousing operator,  which launched a $2bn China fund in partnership with Singapore sovereign wealth fund GIC.
"We believe high consumption growth, especially of e-commerce, will continue to drive demand for high-quality logistics properties in China," said Lee Kok Sun, chief investment officer of GIC Real Estate.
Despite the increased investment levels, Mr Holt told The Loadstar there remained a shortage of suitable quality warehouse space specifically designed for e-commerce fulfilment operations.
"Significant areas, including China, India and parts of South-east Asia lack the modern logistics facilities to carry out e-commerce functions.
"Besides just four walls and a roof, e-commerce players require warehouses with suitable specifications, given the amount of technology they bring along with them – for example, with electrical load, floor loading and access points for pick-up trucks.
"This is a major reason why we are seeing the tech-driven end users entering the space to develop their own warehouses," said Mr Holt.
He said one challenge was the increased demand for urban locations, with retailers desperate to bring supply chains closer to consumers.
"The closer the warehouse to the customer the better, so urban infill locations will be in demand. But this comes with added costs, such as higher rents, efficiency and social costs – imagine a 24-hour e-commerce warehouse with its large delivery truck fleet in a high-density urban area.
"However, quicker delivery time and increased business in a competitive landscape could justify these additional costs to the supply chain," Mr Holt noted.