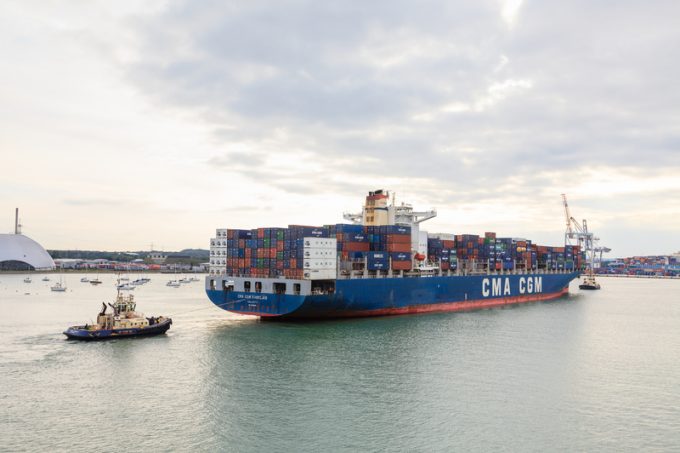 Greek containership owner Danaos Corporation said it expected the charter market bull run to continue "until at least the end of next year".
Ocean carriers are competing fiercely to fix the small number of open ships coming on to the market at virtually any cost; driving a massive spike in daily hire rates and greatly extending charter party periods.
New York-listed non-operating owner (NOO) Danaos reported very strong earnings for Q2 and the half year, and has accumulated $1.75bn in contracted revenues extending through to 2028.
"The pandemic is continuing to cause inefficiencies in the transport chain, and there is no obvious indication that conditions will normalise in the near term," said CEO Dr John Coustas.
Net income in the second quarter from the lease of its 60 container vessels, ranging in size from 2,200 teu to 13,100 teu, was $69m, compared with $42.5m in the same period of 2020.
However, Danaos' earnings are set to increase significantly as much higher new and extended charter party terms are negotiated with its shipping line customers.
"The containership market has maintained its positive momentum, which is reflected in increasing rates for both containers and vessel charters. Danaos is continuing to secure charters for its vessels for periods of between three and five years," said Dr Coustas.
He said some of the new charters agreed with shipping lines "did not even begin until the middle of 2022".
"The market appears to be in short supply until at least the end of next year," said Dr Coustas.
To emphasise his confidence in the mid-term strength of the containership charter market, he gave the example of six 5,460 teu vessels recently purchased by Danaos at a significant discount, due to the fact that they were sold with longer-term charter party attachments.
"These vessels are tied to below-market, though still profitable, charters, expiring from mid-2022 to mid-2024," said Dr Coustas. "They are similar specifications to newbuilding designs offered today and we expect to re-charter them at levels significantly higher than their existing charters."
Indeed, the post-panamax wide-beamed vessels were purchased last month for the equivalent of $43m a unit and, according to the latest Vesselsvalue data, they are now considered to be worth $74m each, and rising.
The attached charters, at some $18,000 a day, will still give the NOO an impressive return after deducting some $6,000 a day in operating costs, but the shipowner is looking further ahead, when it might expect to command charters of $60,000 a day from charterers such as Maersk.
The effect of these skyrocketing charter rates has so far had little impact on the bottom lines of ocean carriers in the midst of reporting colossal profits gleamed from equally skyrocketing container freight rates. Nevertheless, as and when charters are extended, the costs will start to hurt the liners, particularly if this coincides with the freight rate bubble bursting.
In fact, the spike in its charter hire costs was the only negative comment yesterday in Maersk's staggering $5bn upgrade in its full-year ebit forecast.