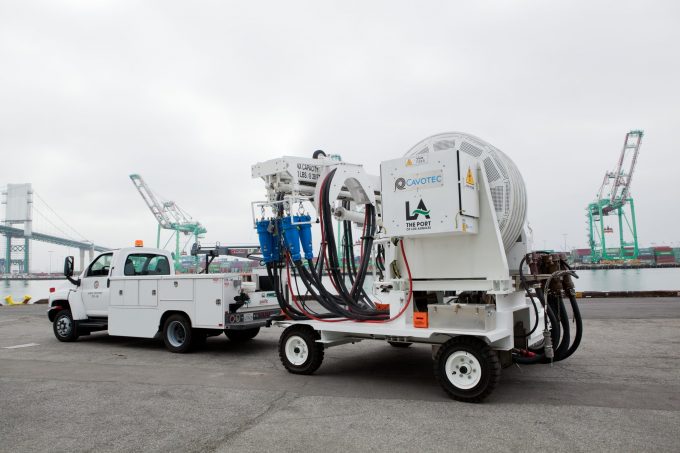 The UK ports industry has called on the government to help it reduce carbon emissions at port facilities by building up infrastructure to deliver shore power to ships at berth.
For years, ports around the world have looked at how to provide shore power to ships at berth – known as cold ironing – an initiative first pioneered in Los Angeles' West Basin Container Terminal in 2004, as the city struggled to contain the smog that regularly engulfed it.
Providing shore power means vessels can switch off diesel-fuelled generators while in port, and governments around the world have supported cold ironing infrastructure projects at ports – except in the UK, where this is noticeably absent, says the author of a new report, Barriers and Solutions for UK Shore Power.
Simon Bullock, lead researcher on the report from the Tyndall Centre for Climate Change Research at the University of Manchester, said: "Many European governments have strong policy support for their ports to deploy shore-power. The UK does not – the imminent 'Transport Decarbonisation' would be the ideal way to rectify this."
The UK's Department for Transport is in the midst of developing its Transportation Decarbonisation Plan, part of the country's efforts to meet its greenhouse gas reduction targets.
However, should the government decide cold ironing needs to be part of that plan, the report suggests it will need to support it through a variety of measures, including: setting up an investment fund to support the development of shorepower projects by 2025; reducing electricity taxation for shore-power, "to allow it to compete fairly with marine diesel oil, as is the case in some competitor nations"; introducing zero-emission regulations for vessels in port; and "a commitment to enabling wider port electrification and smart grids through changes to electricity network planning and regulation".
The report adds: "Shore-power projects are difficult and expensive, with few if any going ahead worldwide without government support. And ports are often constrained by lack of energy network capacity in their area– and complex regulation of the energy system."
Tim Morris, CEO of UK Major Ports Group, explained: "Ports and the maritime sector are committed to reducing emissions and playing their crucial role in a net zero future for the UK. Today's research shows the hunger from industry to increase electrification of its activities.
"We as industry know we have more to do, but government has an essential enabling role to play. It needs to back its ambition and targets with investment support and improvements to the energy system."