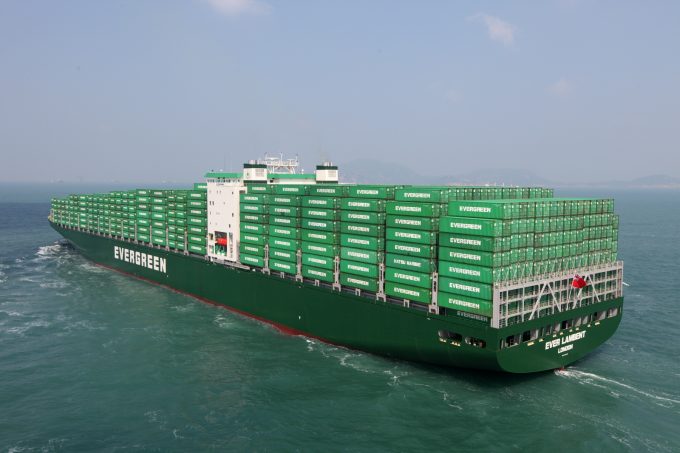 The CKYHE alliance is cancelling one of its six weekly strings between Asia and North Europe.
The move could be the tip of the iceberg of further service withdrawals on the troubled trade, as utilisation levels plummet and freight rates hit rock bottom.
From the end of this month the CKYHE will stop its China Europe Shuttle (CES) service, which calls at Felixstowe, Hamburg, Rotterdam and Le Havre in North Europe and deploys 10 8,500 teu ships – mostly supplied by Evergreen.
According to Alphaliner, there are reports of rates as low as $100 per teu being offered by desperate carriers as load factors stubbornly remain in the 70%-80% range, despite 30 sailings being cancelled last month alone.
And the rival G6 alliance is considering permanently withdrawing its Loop 6 to North Europe following its 11-week suspension to mid-May, said Alphaliner.
Container spot rates between Asia and North Europe are close to all-time lows, with last week's Shanghai Containerized Freight Index (SCFI) at $231 per teu and looking likely to deteriorate further, given anecdotal reports of lower market rates. And general rate increases planned by carriers for next week – already pushed back from 1 March – appear to have little prospect of succeeding in the current climate.
The toxic combination of weak demand and overcapacity is also plaguing Asia-Mediterranean services, with the SCFI recording an 11% drop in rates last week to $236 per teu.
The equally dire prospects for Mediterranean destinations have prompted the CKYHE carriers and CMA CGM to merge their respective Asia-Adriatic loops, noted Alphaliner.
At the end of May, the O3 alliance will redeploy five 18,000 teu-class ships, operated by CMA CGM under its FAL1 Asia-Europe brand, onto the French carrier's Pearl River Express transpacific service, replacing its 11,000 teu ships.
Unless there is a significant pick-up in demand for European ports, other carriers could decide to follow CMA CGM in deploying ultra-large container vessels (ULCVs) onto the transpacific route, not least because there are around 36 ULCVs of 14,000-20,000 teu stemmed for delivery this year alone.
However, Alphaliner warns this would exert extra pressure on the Asia-USWC trade and have a negative impact on freight rates. Spot rates on the trade have plunged by over 50% in the past year, despite respectable growth predictions and vessel load factors of around 90%.
Meanwhile, with most carriers having lost money in the final quarter of 2015, and trading conditions in the first months of this year appear to be worsening, container lines will need to continue cutting capacity and idling ships if they are to have any prospect of returning to profitability.
It follows that shippers will face much uncertainty in their supply chains over the next weeks and months as more sailings are cancelled at short notice or withdrawn altogether by cash-strapped carriers.