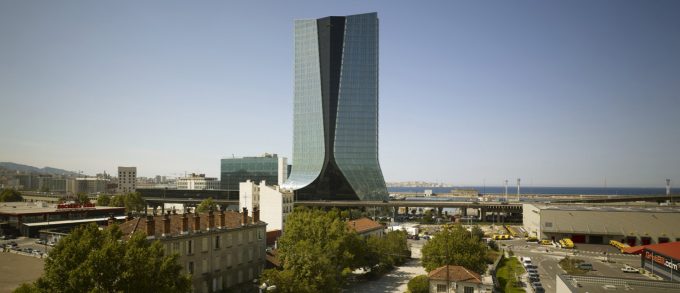 CMA CGM posted a $45m net profit for the third quarter, reducing the French transport and logistics group's nine-month loss to $107m.
The number of containers carried in Q3 rose by an above-market par 5.1% on the same quarter of 2018, to 5.5m teu, which it attributed mainly to growth from its shortsea business, including the integration of Containerships.
However, excluding CEVA Logistics revenue, turnover fell 3%, to $5.88bn, as freight rates came under pressure.
The forwarding arm continued to operate in the red, and CMA CGM said: "The group remains firmly committed to returning CEVA Logistics to a sustainable and structural profitability, thanks to the wide variety of measures and investments undertaken since the acquisition closed."
However, it added that "due to the challenging environment in certain industrial sectors", it was obliged to push back its previously announced profitability targets for the forwarder by two to three years, to 2023/2024.
In order to improve its heavily leveraged balance sheet, CMA CGM said it planned to raise $2bn from the sale of container terminals and the sale and leaseback of some ships.
It intends to sell 10 terminals for $968m to Terminal Link, a joint venture with China Merchants in which it holds a 51% stake. Terminal Link will finance the purchase through "a capital increase of $468m subscribed by China Merchants" and a loan from China Merchants, "that in eight years will be converted into a capital increase subscribed by CMA CGM".
The transaction is subject to antitrust and other regulatory approvals, but CMA CGM expects it to close in the spring.
CMA CGM said it would raise a further $860m from the sale and leaseback of vessels, but it did not specify the ships involved or the contracting parties.
One broker The Loadstar contacted today said he had heard rumours about the deal, which he said would "almost certainly" increase the carrier's ship operating costs.
"A lot will depend on what they have agreed on with the charter rates and how long the fixed price is valid for," he said. "The market is quite strong at the moment so my guess is that could be paying top dollar for the daily hire.
"OOCL did this a few years back when it was cash-strapped and it cost them a lot of money," he said.
CMA CGM is also hoping to raise some $90m from the sale of a logistics platform in India and a further $100m from customer receivables, a form of invoice factoring, relating to CEVA customers.
CMA CGM chief financial officer Michel Sirat said the company expected market conditions to be "slightly better next year" and suggested the IMO 2020 low-sulphur regulations would restrict supply and support higher freight rates.
He said the carrier would look to pass on to shippers around $150-$200 per container to cover the extra cost of having to buy low-sulphur fuel.
On the subject of the asset sales, Mr Sirat said no other divestments were planned in the short-term.
"We have a lot of assets and we will use them fully," he said.