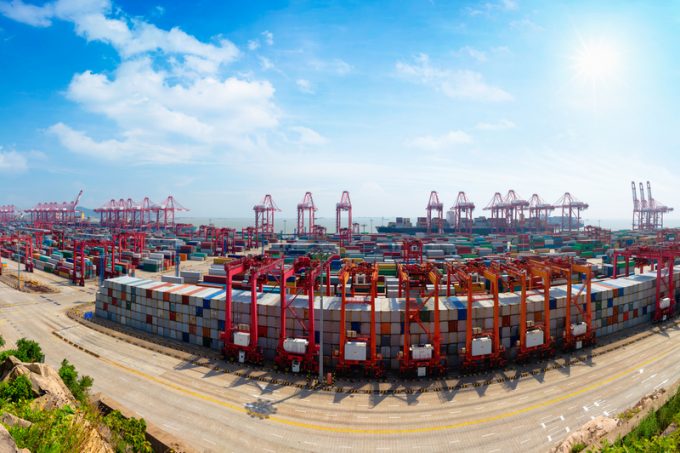 CMA CGM has announced a $300 increase in FAK rates from Asia to North Europe and the Mediterranean, to $2,000 per 40ft, from 1 June.
Other carriers are rolling out similar hikes as space on the trade gets tighter, following aggressive blanking programmes by all three alliances.
According to eeSea data, carriers have so far announced the withdrawal of 28% of scheduled headhaul sailings this month, representing 37 of 130 advertised voyages.
"Most ships are running full," a Chinese forwarder told The Loadstar today, adding that there had been some rollovers.
Another source reported that Maersk, MSC and Evergreen had all increased their short-term rates for the second half of May – Maersk's Shanghai-Felixstowe 40ft price up from $1,220 to $1,350 in the past few days.
Meanwhile, reflecting the supply squeeze, today's Shanghai Containerized Freight Index (SCFI) recorded an 11.7% jump in spot rates for North Europe, to $831 per teu. And for Mediterranean ports, it edged up $2.6%, to $875 per teu.
"Carriers remain extremely disciplined, despite the overall decline in cargo," said Martin Holst-Mikkelsen, head of ocean freight EMEA at Flexport.
He told The Loadstar: "Most services are close to fully utilised in the week ahead, and this is driven in large part by the large blanking schedule. We will have to see if the market supports the higher rates, and how the carriers behave."
Indeed, The Loadstar heard rumours this week that one of the alliances could be looking to 'unblank' a cancelled sailing before the end of the month to take advantage of the tight market conditions.
However, Mr Holst-Mikkelsen cautioned that, while there was some recovery in Asia-Europe volumes, he was not certain how sustainable it was.
On the transpacific, in contrast to the European market, the SCFI recorded spot rate declines. For the US west coast, rates fell 2.5% on the week, taking the index to $1,686 per 40ft, while for east coast ports, the decline was more significant, down 6.4% to $2,542 per 40ft.
As Europe slowly begins to reopen, the coronavirus is still raging in the US, having claimed over 86,000 lives, and a further three million workers applied for unemployment benefits this week, taking the total to a staggering 36 million that have lost their jobs in the past eight weeks.
Despite some US states trying to reopen their economy by easing lockdowns, consumers are reluctant to spend without widespread testing or a vaccine for Covid-19.
According to eeSea data, so far transpacific ocean carriers have cancelled 48 of 252 scheduled headhaul Asia-US sailings this month, representing 19% of capacity, and are planning to take out 17% next month.
And if demand in the US remains very weak, carriers may have to consider withdrawing more capacity, as they have done on European routes, to protect freight rates.