Maersk is diverting its ships from the flood-ravaged port of Durban to Port Elizabeth, as access roads to South Africa's largest container port remain impassable.
The Loadstar understands other carriers are also considering omitting the port in the coming days.
With the death toll from the devastating floods this week in the province of KwaZula-Natal now exceeding 300, a massive recovery operation is under way, amid calls for a state of disaster to be declared.
Bridges have been swept away and swollen rivers have dumped vast quantities of mud and debris onto roads, leaving hundreds of shipping containers scattered around.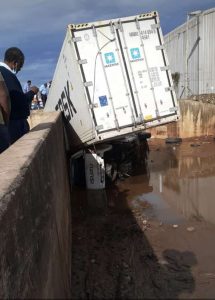 A Durban-based logistics manager told The Loadstar the extensive damage to the region's infrastructure would have "a huge impact" on operations at the port.
Maersk said: "This has effectively cut off all road access into and out of the terminals," adding that it did not have a date when the road could be reopened. A local contact told The Loadstar it "could be weeks" before the flow of exports and imports resumes at Durban.
Meanwhile, Transnet Port Terminals (TPT) said all its quayside facilities were operational, "albeit not at 100% capacity",  with terminal equipment not having been damaged, although some areas are waterlogged.
TPT reported that there were currently two vessels at berths working with two gangs each, with one vessel at the outer anchorage. It said it anticipated "full operational capacity before the end of the week".
Nevertheless, with landside operations suspended, most carriers will decide to omit the Durban call until the intermodal situation improves.
Maersk advised today that the 5,300 teu Maersk Pangani, deployed on the weekly Asia-Mid East-South Africa service, will discharge its Durban cargo at Port Elizabeth, and the 1,157 teu intra-Africa feeder Horizon, originally planned for Durban to connect with another service, would now go to Port Elizabeth to connect with Maersk Pangani.
Hapag-Lloyd said it was "formulating contingency measures in line with the complexity of the situation", but followed Maersk in confirming it had suspended demurrage and detention charges at Durban from Tuesday for an initial period of seven days.
And, in an advisory issued by ONE today regarding flood contingency arrangements for its SAECS service, the Japanese carrier said it would "encourage Johannesburg-based customers to take delivery of Durban import cargo at Port Elizabeth, which will ensure a much faster delivery".