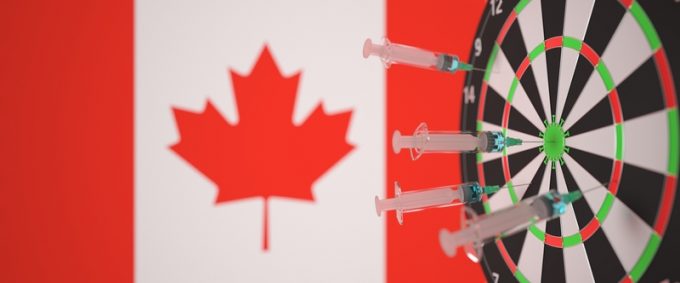 Distribution of Covid-19 vaccines kicked off in Canada yesterday, with the first doses of the Pfizer-BioNTech vaccine arriving courtesy of FedEx and UPS.
The integrators flew the vaccines from Europe via their US hubs, but they won't play a major role in Canadian distribution, as, owing to the extreme temperature control requirements of the vaccine, Pfizer itself is managing it.
This still leaves a lot of vaccines for commercial carriers to move, starting with Moderna's, which is expected to be cleared for Canada within the next few days.
The Canadian government has ordered 194 million doses of vaccine from seven different producers and signed options for 220m more. Of the firm orders, only 20m are from Pfizer.
For a country with a population of 38m, these are huge volumes, which suggests that a large portion will never move. Still, the logistics involved augurs well for FedEx, which was awarded the Canadian distribution contract in partnership with Innomar, a subsidiary of US drug distributor AmerisourceBergen.
The C$90.4m (US$70.83m) contract calls for an "end-to-end Covid-19 vaccine logistics solution", declared federal Procurement Minister Anita Anand when she announced it on 4 December. And the announcement raised some eyebrows. One parcel logistics consultant noted that rival UPS had a larger presence in Canada.
The government had cleared five parties to bid for the vaccine logistics contract – UPS Healthcare, Kuehne + Nagel, McKesson Canada, FedEx Canada and Innomar. The FedEx-Innomar alliance finally triumphed over a joint bid from UPS and K+N.
No explanation on the choice was offered, but the minister pledged greater transparency around vaccine logistics once the delivery dates for shipments in the first quarter of the coming year were set.
FedEx and Innomar declared themselves capable and ready for the job, pointing to an air network serving 25 airports in Canada and more than 3,000 vehicles in its ground fleet.
The issue has revived questions about government criteria for carrier selection. In the spring, some players criticised Ottawa for its decision to award a significant contract for PPE transport to Amazon rather than to Canadian carriers. Purolator Courier, the country's leading courier company, was not in the running and nor were Air Canada and Cargojet, the largest freighter operator.
"For the vaccine distribution, our role is to work with our forwarding customers and other logistics partners to understand their needs and assess where we can be a good fit to provide air transport portion of that supply chain," said a spokesperson for Air Canada Cargo.
Cargojet, which provides linehaul for all the major parcel firms – including FedEx and UPS – expects to carry some vaccine traffic, but Jamie Porteous, executive vice-president and chief commercial officer, is not anticipating a deluge of vaccine shipments, despite predictions from pundits and of a surge in demand for freighter capacity.
A large number of doses can be shipped in a single box that does not take up much space, he pointed out, adding that there are still many question marks as to where vaccines will be produced and how big production capacity is going to be in the foreseeable future.
FedEx has not involved the carrier in extensive planning for the vaccine move. There have been some preliminary discussions between the pair, but not in much detail, which indicates that FedEx does not feel any urgency to make sure the freighter airline is ready. Cargojet has experience in moving temperature-sensitive pharmaceuticals and has protocols in place for offloading cargo straight to a waiting truck without touching the warehouse, Mr Porteous confirmed.
Perhaps that's all it takes, but at the moment there are still more questions than answers when it comes to vaccine distribution.