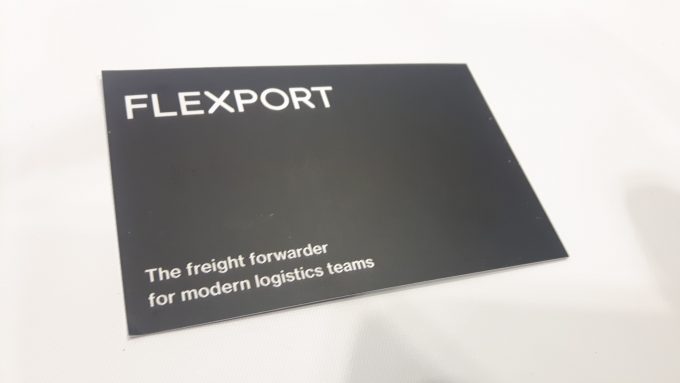 "The outside world has become fixated on Flexport."
So said Steve Walker, founder of SBS Worldwide and chief executive of forwarder supplier SWG, in a speech to Canadian Forwarder Association CIFFA this week.
"I have respect for what Flexport ise creating," he continued. "Yet, when you pull away from the headlines what is it?
"It is an online 3PL, with its own TMS, operational hubs, air charter contracts. And with country offices. And with staff. I think that adds up to another 3PL. And probably still unprofitable," he added.
Flexport famously won't talk finances, but has a nice war chest fuelling its rapid expansion. And it has created a media presence unheard of for a start-up. So why is it special?
"We bring a different approach," said Neel Jones Shah, executive vice president and global head of airfreight.
"We bring transparency to the customer. This industry has approached its customers in a very arrogant way. Shippers are not happy with the service they get. It's an invitation for someone to come in and do things better.
"I am not sure if it's disruption, or the way business is going. We might have been the first, but we won't be the last. Others will adapt," he added, speaking on the sidelines of TIACA's ACF in Toronto.
At the moment, others are jealous. An unprofitable company with serious investor backing intended to take it into the top 10, with no legacy system, and in-house developed software puts it in an enviable position.
While the company, and Mr Jones Shah, will not be drawn into talking revenue (let alone profits – or not), Jan van Casteren, vice president of Europe, told ShippingWatch in April: "If we would decide today to stop the development of our software and to stop hiring new sales people we would become a profitable company. But that is not our goal."
So, is there a goal to be profitable – and when?
"I won't discuss our finances, but the notion that we are some sort of non-profit is ludicrous," said Mr Jones Shah. "Why would anyone invest?
"I don't believe we are offering low market yield. Are we motivated by turning a profit versus creating a platform? More the latter, but yes, of course we are focused on being profitable."
One wonders how long the company has got. In April, Chinese express operator SF Express invested $100m in the company; Flexport has raised $304m in five funding rounds. Analysts are already expressing concern about a possible "tech bubble", while investors will want to see results. Growth is critical.
"We are looking to bring in a tonne of efficiency to an inefficient business," said Mr Jones Shah. "It allows you to be price competitive, and still make money. It allows us to get sharper.
"We continue to break new ground, and new revenue records. We are continuing to grow the business, but it's methodical. It's not growth for the sake of growth. We are investing in the right things for 2019, 2020 – making the right investments in technology. The goals are very clear, and it's a really nice roadmap.
"We don't worry about revenue, no, but we are doing everything we set out to do.
"This industry is ripe for it and our customers are excited about what we are doing. They have been looking for something like this. It's not all perfect – we've got a lot of learning to do – but we are willing to step back and learn."
Flexport, early in its life, has become one of the few forwarders to control its own freighter network, and operates Hong Kong-Los Angeles three times a week.
"The freighter is a real validation of what we are trying to do," said Mr Jones Shah. "We are smart about the investments we make. The freighter is an example of that, the warehouses are examples of that.
"We have to make sure we have the right platform for our customers to enable growth. We invest in assets that allow us to grow. And freighters allow us to engage with customers – when you bring an aircraft to the table, people want to talk."
What Flexport doesn't have is experience. The 'traditional' forwarders pride themselves on their flexibility, adaptability – and outright survival abilities.
But with a Chinese investor and its key tradelane being between the US and China, the question will be whether Flexport manages to adapt fast enough to the inevitable market changes brought about by the China-US trade war.
According to data from Seabury, only about 4.5% of total world air trade is currently affected by tariffs – but between China and the US the figure is about 50%. And this could double in January, if tensions escalate, to include finished products such as mobile phones.
So is Flexport over-exposed to the tradelane?
"We don't know what Trump is going to do," said Mr Jones Shah. "Things are good right now, there was a rush before tariffs kicked in. But after Chinese new year we cannot be sure. Will the growth go somewhere else? There will be a shift to South-east Asia simply to diversify the risk, but to what extent that impacts volumes we don't know.
"We are still in heavy growth mode because of how young we are. We are going to grow like hell next year, not just in China and Hong Kong, but Cambodia too.
"China-US is so good for us now – we are 100% full and committed for the bulk of the year. People were rushing to bring in product they don't necessarily need to stockpile. Next year there is a question mark.
"If you look to March it's hard to know. What production will move to South-east Asia? Vietnam will be one of the beneficiaries, also Cambodia, Thailand, Myanmar. But China to the US trade is massive, and there is still a lot moving.
"In our industry, you can always count on something going awry. It results in opportunities for some, and tough times for others."
It'll be interesting to see on which side of the coin Flexport will find itself.