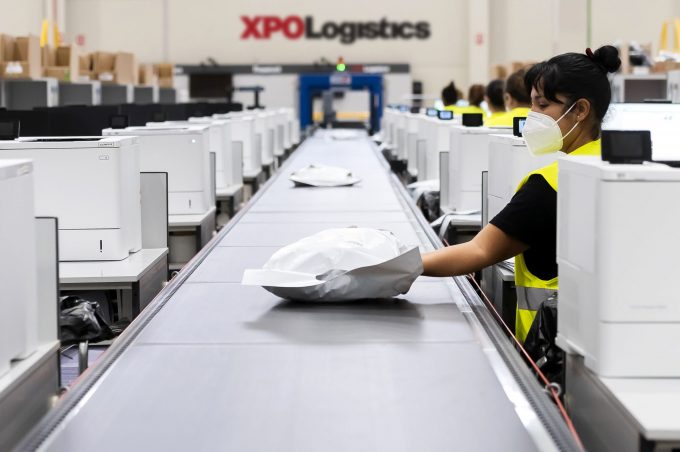 XPO Logistics yesterday confounded financial analysts' expectations reporting third-quarter adjusted ebitda of $439m – some 24% ahead of the $350m or so Wall St and the firm itself was expecting.
In the same period last year its adjusted ebitda was $438m.
David Kerstens, equity analyst at Jefferies, said the profit growth reflected "a stronger-than-expected recovery in logistics, driven by accelerating supply chain outsourcing and growing e-commerce".
Loadstar Premium editor Alessandro Pasetti said: "The revenues and EPS surprise was there for the quarter. There were bits I liked and others I did not; all to be covered in our Premium analysis next week.
"But the unmissable side of the XPO Logistics story is… [CEO] Brad Jacobs. The sheer determination with which he is trying to drive value from these levels is priceless," he added.
XPO group revenues for the period were $4.22bn, compared with $4.15bn last year, driven entirely by its contract logistics operations in North America and Europe.
Its logistics operations generated revenue of $1.58bn for the third quarter, compared with $1.51bn last year, which was "led by strong demand from e-commerce and other consumer-related verticals, partially offset by Covid impacts in other areas and the company's exit from certain low-margin business".
Logistics' adjusted ebitda was $162m for the quarter, compared with $142m last year.
Meanwhile, revenues at its transport arm were flat at $2.68bn, while adjusted ebitda was $329m, compared with $333m for the same period in 2019. However, this included a $6m impact from Covid-related costs, including $4m in less-than-truckload.
Mr Jacobs said: "Our business rebounded dramatically in the third quarter. Revenue, adjusted ebitda, adjusted EPS and free cash flow were all decisively higher than expected. Our growth was broad-based, spanning our service offerings and geographies.
"Supply chain outsourcing is accelerating and e-commerce continues to be a huge tailwind for us, particularly in contract logistics and last-mile. We grew our last-mile revenue by 11% in the quarter, year over year, by leveraging our North American hubs and XPO Direct network."
And the company has issued new guidance for the fourth quarter of adjusted ebitda of $400m-$410m, and full year ebitda of approximately $1.35bn, which Mr Kerstens said was 4% and 8% ahead of consensus, respectively.