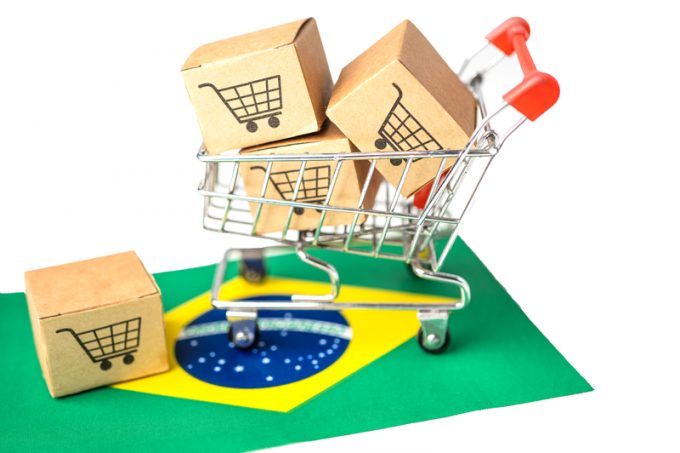 Cainiao, the logistics arm of Alibaba, is bullish on Latin America.
A little over a year after its first freighter flights from Hong Kong to the region, the company is more than doubling its lift there.
Having opened direct service in October 2020 with three weekly flights to Brazil and Chile, Cainiao is now upping the service to a daily frequency, an increase in cargo flights of 144%.
To that end, it has extended its contract with Atlas Air, leasing another 747-400F, the fifth the ACMI provider operates for Cainiao.
The advent of the pandemic-stymied flows of e-commerce into Latin America last year, but Cainiao has apparently enjoyed strong growth this year. It reported the number of parcels shipped to Brazil in September, for example, was up 200% year on year.
The company has established a 12-day delivery service to Brazil's core metropolitan areas and is planning a distribution centre to offer next-day or same-day delivery, in partnership with local final-mile providers.
A study published in late September on Statista, projects juicy growth in Latin America. The number of online buyers will grow more than 20% from its current level of 300 million by 2025, the authors predicted.
They said although the adoption in e-commerce in the region was still lower than in other emerging regions, online retail sales in Latin America were expected to reach $85bn this year, and $160bn by 2025.
They identified Brazil and Mexico as the leading markets, accounting for 31% and 28% of the Latin American market, respectively, but added that countries like Argentina, Peru and Colombia had also shown swift growth.
Airports and carriers in the region have pointed out that the e-commerce growth is playing out chiefly in domestic arenas. Carsten Hernig, VP cargo Latin America & Caribbean for Lufthansa, noted that growth in Latin America's international e-commerce volumes had risen from a low base. And customs clearance remains a powerful hurdle.
"Clearance is so complicated that it's not worth your while to order a T-shirt from China," he said. Mr Hernig spoke from personal experience – "once, and never again," he added.
That said, he reckons e-commerce flows will have grown substantially two years down the road.
Authorities are showing greater willingness to take steps that allow a better flow of data and reduce red tape, airport operators have reported.
Montevideo's MVD Free Airport is working on building up distribution capabilities for global moves of medical cannabis, after the government passed legislation that allows the reception of products containing the drug in large quantities. This involves storage of the products at the airport for dispatch on compassionate grounds, once a doctor's prescription has been received.
However, the airport is facing another problem: pandemic-decimated MVD international passenger flights. Freighter services have continued, but at the moment connectivity is low until passenger connections are restored.
Rio de Janeiro's RIOgaleao is facing the same challenge. It had positioned itself as a regional gateway, but the loss of passenger flights forced it to hunker down and concentrate on its core clients.
An 8,000 sq ft warehouse was refurbished at the airport, and construction of a new 30,000 sq ft facility is about to start. This allows RIOgaleao to offer distribution directly from on-airport facilities, which sets it apart from other Brazilian airports, according to Patrick Fehring, director aero business, who sees a role for e-commerce in the mix.
"E-commerce is one of our targets," he said. "E-commerce firms, forwarders and 3PLs are the kind of customers that will use these warehouses."