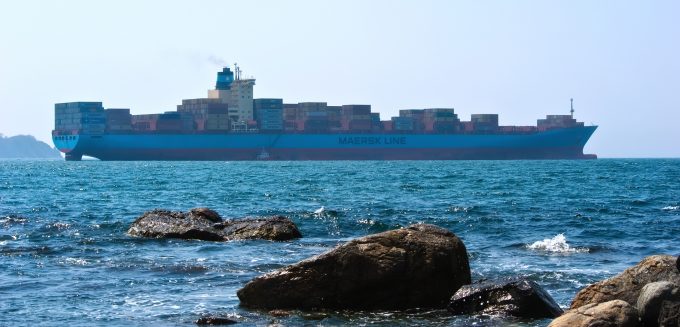 After a short block on bookings this week, Maersk Line is again accepting cargo from North Europe to Asia.
However the line said the capacity situation remained "tight".
On Wednesday, Maersk stopped booking export containers from Europe to Asia and the Middle East – a temporary block it expected to run until 27 March.
But yesterday Maersk sent an e-mail to The Loadstar to confirm it has now begun to accept bookings again.
The carrier said: "We have been reviewing our options to minimise the backlog with the least possible impact on the business of our customers," and concluded: "We are now happy that customers can book with us."
Rumours suggest that the 2M alliance has added ad-hoc vessels to its network, with MSC also taking delivery of three 19,500 teu newbuilds this month.
The partners can thus take advantage of eastbound rates that have soared by as much as 200% in the past six months and are continuing to climb, due to the dearth of capacity.
Maersk added it was not the only carrier experiencing backhaul space shortages – it was "a general issue affecting all carriers".
Indeed, The Loadstar has learned that several carriers have effectively implemented a'booking stop' for new enquiries and are declining to take scrap, wastepaper and plastic for the remainder of the month.
One carrier source said the aggressive blanking of westbound voyages during and around the Chinese new year holiday last month was the root cause of the capacity crunch, which also impacted empty container availability.
According to one forwarder, another factor was the repositioning of vessels by carriers in preparation for the reshuffle of alliances next month.
Unsurprisingly, freight rates have soared, with North Europe to Asia FAK (freight all kinds) rates now higher than headhaul prices. And rates for wastepaper and plastic scrap have soared more than 200% to over $2,000 per 40ft.
The shipping manager of one major UK recycler, which ships some 60,000 40fts of cardboard and wastepaper a year from the UK to China and Vietnam, told The Loadstar today that allocation uncertainty and extreme rate volatility was "very challenging".
"I am talking to all the major carriers on a daily basis to check on space availability, together with a few selected forwarders… it is becoming a problem to keep a steady supply to our mills," she said.
Meanwhile, container spot rates from China to Europe ticked down slightly this week, while the transpacific suffered another significant drop.
After a 7% increase last week, Asia-North Europe spot rates, as recorded by the Shanghai Containerized Freight Index (SCFI), fell by 4.9% to $876 per teu. For Mediterranean ports there was a 3.2% drop to $854 per teu.
However, despite this, according to ocean freight pricing platform Xeneta's spot rate index, rates are not only much higher than last summer but are significantly higher than this time last year.
Xeneta chief executive Patrik Berglund said today: "While rates have slid slightly since the Chinese new year, the market average from Chinese main ports to North Europe is currently up a massive 252% on the average of 12 months ago.
However, all is not so rosy for transpacific carriers, which saw the SCFI record a fourth consecutive week of spot rate declines.
From Asia to the US west coast, rates slumped by 9.3% on the week, to $1,496 per 40ft, and for east coast ports, there was a drop of 3.3%, to $2,955 per 40ft.
The timing of the softening spot rates on the route is not good for carriers negotiating new contract rates with shippers for 1 May.