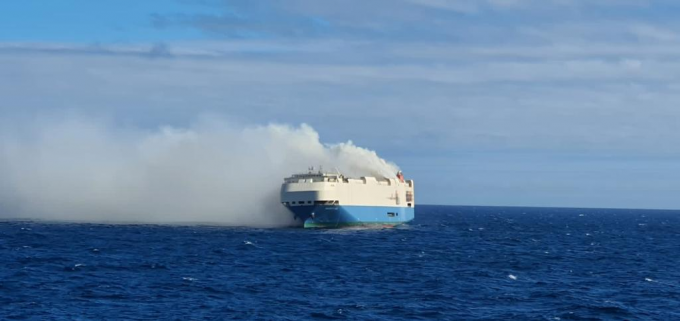 Ocean safety agencies have criticised the automobile and battery industries, claiming manufacturers are not taking the safety issues involved in moving electric vehicles (EVs) seriously enough.
The criticisms come as fears grow that an EV fire on board a ro-ro ferry would pose more serious challenges than a standard fire, as lithium-ion batteries are known to burn at ultra-high temperatures and the usual remedy – to douse the blaze with water – could cause ferries to become unstable.
Peregrine Storrs-Fox, loss prevention director at insurance mutual TT Club, and Dirk Vande Velde, MSC's health safety, security and environment officer, are critical of one German car manufacturer they say downplays the risks.
In a cross-industry meeting, one car manufacturer, according to Mr Storrrs-Fox, claimed: "Regulations cover it so you're ok."
Mr Storrs-Fox told The Loadstar the auto-industry representative's attitude was blasé and "didn't help". He also suggested that while he had attended two major conferences for the battery industry recently, neither discussed safety issues, which he said were "apparently not on the industry's radar".
Mr Vande Velde, part of a team of industry experts looking to formulate a workable response to EV fires, said: "We need to be able to scan EVs to get an idea of the state of their batteries."
Older batteries may have been "abused", he explained, and this would mean they were more susceptible to fire. But there is no way of knowing how batteries in a used vehicle have been treated.
However, Society for Motor Manufacturers and Traders CEO Mike Hawes defended the auto industry. He said: "Safety is the number-one priority, and all vehicles, electric or otherwise, imported into and exported from the UK must comply with applicable legislation."
Mr Hawes said: ": "This includes international regulations developed under the United Nations Economic Commission for Europe (UNECE), which set harmonised technical standards for the safety of electric vehicles."
He went on to say: "We are unaware of any evidence to suggest that transporting electric vehicles, which is standard practice globally, poses a greater risk to cargo or ferry vessels than other types of vehicle."
Nevertheless, car-carrying ro-ro operator Wallenius Wilhelmsen said: "We do not accept any used EVs on our vessels, as a safety measure due to the unpredictability of the vehicle's condition."
However, this is not a practical solution for freight and passenger ferry operators and rail lines such as Getlink, which operates the rail link between the UK and France, which will be mixing EVs with conventionally fuelled cars and potentially hazardous freight.
Getlink told The Loadstar: "On our passenger shuttles, the safety procedures for EVs are the same as for any other vehicle/fuel type – in the event of an incident with a vehicle, passengers are moved to the next carriage. Protective doors between each pair of carriages mean that once in the next carriage they are in a safe zone and the shuttle continues its journey. Fire and smoke suppression systems contain the incident, and the emergency services meet the shuttle on arrival."
DP World-owned P&O Ferries said it "treated all cars the same", but  added: "P&O Ferries welcomes customers using electric vehicles on our sailings. To ensure the safety of everyone onboard our vessels we have a number of emergency management plans which can be implemented in the unlikely event of a car fire during a sailing. We are continually monitoring our plans to ensure that they are in line with changing technologies and industry best practices."
DFDS has taken a different view saying it is: "Working closely with our counterparts and subject experts to enable us to mitigate any potential risks. Additionally, we have introduced a specific Fire Fighting Package for Fires in Alternative Fuelled vehicles onboard all of our vessels and have specific training on the subject."
Stena Line had not responded by the time The Loadstar went to press.