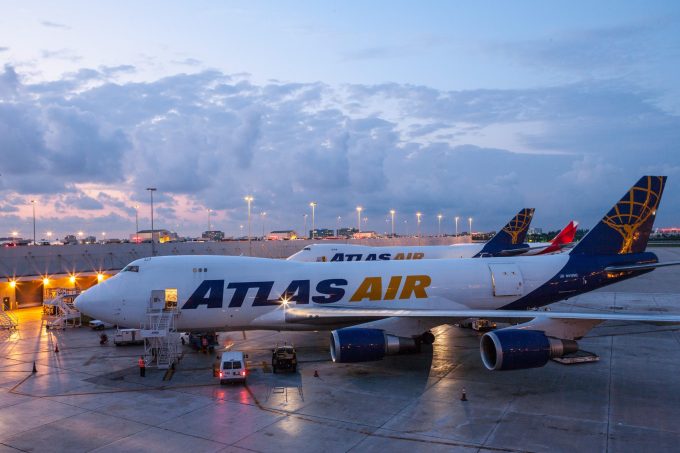 Atlas Air's takeover by Apollo Global Management was expected to close in the first quarter – but it looks as if progress may have been hampered by regulatory authorities.
Yesterday, the US Department of Justice (DoJ) said its focus on "potentially illegal interlocking directorates" had forced a number of directors to resign from corporate boards owing to "interlocking" interests.
Two Apollo-related directors of Amazon Air supplier Sun Country Airlines were among them.
The DoJ noted: "Sun Country and Atlas Air both provide crew, maintenance and insurance for domestic air freight routes. In August 2022, an investment group led by Apollo Global Management, proposed acquiring all of Atlas Air's outstanding shares. At the time, two Apollo-affiliated individuals sat on the Sun Country board of directors. After the division raised concerns regarding a potential interlock arising from Apollo's proposed acquisition of Atlas Air, the two Apollo-affiliated directors resigned."
Apollo is one of a number of PE firms under investigation by the DoJ for its strategy of placing directors on corporate boards, which "may not be in the best interests of consumers".
In addition, the planned takeover and subsequent de-listing of Atlas many also have come under more scrutiny after the DoJ said last year it would take a tougher stance on PE firms buying companies.
"Sometimes [the motive of a private equity firm is] designed to hollow out and roll up an industry and, essentially, cash out" DoJ antitrust chief Jonathan Kanter told the UK Financial Times in May. "That business model is often very much at odds with the law, and very much at odds with the competition we're trying to protect."
Deals have certainly faced more scrutiny under the Biden administration and the DoJ's view on JetBlue's planned takeover of Spirit Airlines may also have led to delays for Atlas, or at least spooked investors.
The DoJ is expected to file an antitrust lawsuit next week to block the low-cost airlines merging, according to Bloomberg, and the Department of Transportation (DoT) is expected to block the transfer of Spirit's airline certificates, something it has never done before.
Atlas was awaiting transfer of its operating certificates by the FAA, but said, it in its 2022 results filing last month: "We are working to complete the transaction in the first quarter of 2023, and continue to make progress toward obtaining necessary approvals. We are awaiting final approval from the DoT and have received all other required shareholder and regulatory approvals."
Atlas Air announced full-year net income of $355.9m, down from $493.3m a year earlier. Ebitda fell to $899.2m from $1.1bn, with adjusted net income down to $418m from $551m. Despite noting other legal risks in its results, there was no mention of the corruption found at 51%-subsidiary Polar, nor the related court case. DHL, the 49% shareholder in Polar, also failed to mention it in its results yesterday.
Atlas Air failed to respond to requests for comment from The Loadstar.