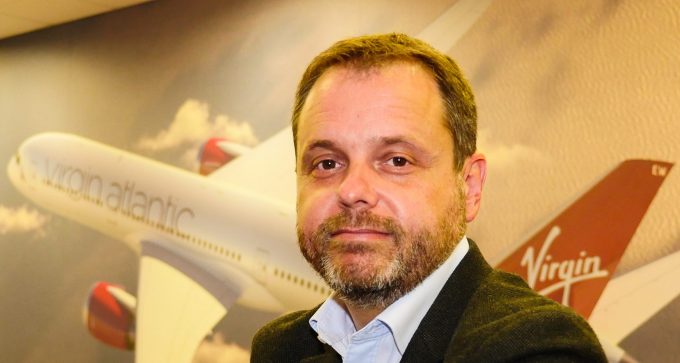 Virgin Atlantic has continued its long-standing tradition of internal appointments with its announcement that Virgin veteran Phil Wardlaw is to replace Dominic Kennedy (who is moving upwards) as cargo boss.
Mr Wardlaw is currently VP engineering and maintenance, after a wide variety of roles in 17 years at the carrier. His job encompasses supply chain management, aircraft acquisitions and returns, and fleet programmes (among other things)  – experience which should well support him, as will the cargo team, in his quest to take on the complexities of cargo.
The cargo job is a crucial one for the carrier, which managed to flip deftly, seemingly almost overnight, from being a long-haul leisure airline into a short-haul cargo carrier – and who knows what, beyond.
That feat was accomplished by the cargo team, led by Mr Kennedy, who is taking on the formidable job titles of SVP revenue management, distribution, and SVP for the Holidays arm. Again, a critical role: revenue management technology can only take you so far, especially in these twisted and unpredictable times – it's tricky job in any airline, especially one such as Virgin.
In addition, the group has, inevitably, undergone some restructuring, with the near-broken Virgin Holidays business now looking at building back within the VA brand, where it was moved last year. 2020 results show an 85% drop in revenue to £96m – unlikely to have been much bolstered by this year's alive-but-insipid holiday season. Its revenues mirror the airline's – except, of course, in the case of cargo, where there is said to be some pleasure at HQ over the revenues and yields this year.
All Virgin's revenue is now "consolidated under single leadership" to drive growth. Which is presumably why the star of Covid challenges, Mr Kennedy, is being jetted in to what, on current pandemic evidence, is likely to be a patchy ride for the package holiday business. No doubt the carrier will rely on his creativity to advance the business in any way the virus and governments allow.
Mr Wardlaw, meanwhile, comes into a job ready-set for success – at least in the short- to medium-term. His task will be to continue to turn into revenue the quick-thinking adaptability that is Virgin's particular cultural asset – and one the airline has seen in its best light in cargo.
In essence, Mr Kennedy's job will be to get all the other plates spinning; Mr Wardlaw's is not to drop the one already in play.