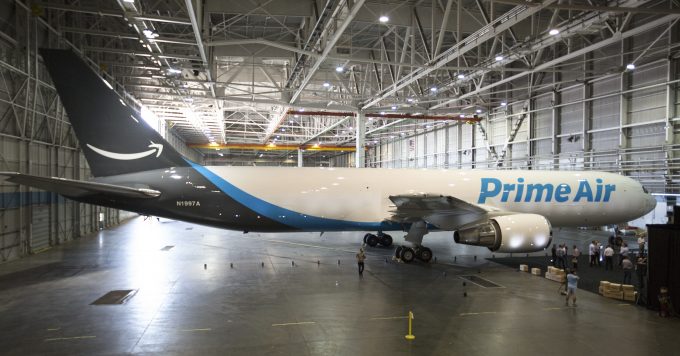 Amazon is to shift its Prime Air hub from Wilmington, Ohio, home of aircraft supplier ATSG, to Cincinnati, Kentucky.
The move, in which Amazon will invest $1.49bn into its new CVG hub in Hebron, has triggered further speculation on the e-tailer's growing interest in logistics.
Amazon has agreed a 50-year lease on some 900 acres at the airport, similar to the size of the FedEx hub at Memphis, and expects to create more than 2,000 jobs when the site opens. A spokeswoman told The Loadstar that Amazon would "transition to utilising CVG this spring".
Colin Sebastian, an analyst for Baird Equity Research, said in a note to clients: "We estimate a $400bn-plus market opportunity for Amazon in delivery, freight forwarding, and contract logistics," according to Reuters.
In its latest nine-month figures, Amazon show shipping revenues up 42% year-on-year to $5.97bn – a number dwarfed however by its 42% rise in shipping costs to $10.5bn.
Reuters reported in December that Amazon was loading its own aircraft with big, lightweight boxes and giving the integrators, which are increasingly pricing by volume rather than weight, smaller items in a bid to cut shipping costs.
Amazon noted in its results it was seeking to "expand our fulfillment capacity … to meet anticipated shipment volumes from sales of our own products as well as sales by third parties for which we provide the fulfillment services".
It added: "We seek to mitigate costs of shipping over time in part through achieving higher sales volumes, optimising placement of fulfillment centres, negotiating better terms with our suppliers, and achieving better operating efficiencies."
Last week it was reported that Amazon had started shipping products via ocean freight, with figures showing it had acted as a freight forwarder for some 150 containers from China since October – a small amount, but one that is likely to grow, and help it cut costs.
It said in the latest statement that it was bringing its expertise in technological innovations to "the transportation space to increase shipping capacity for its customers".
The new air hub will service Amazon's new fleet of Prime Air freighters by loading, unloading and sorting packages. So far 16 of the 40 aircraft under contract are operating, with more expected this year and next, from ATSG and Atlas Air. DHL last year completed a $108m investment at CVG, which could be a further boost to Amazon's delivery network.
The move came as a blow to Wilmington airport. Joe Hete, president of Wilmington-based ATSG, which launched Amazon's air operation, said: "While we had hoped that Amazon would choose to expand the sortation and other logistics operations we manage for them here at the Wilmington Air Park and bring more jobs in southwestern Ohio, we certainly appreciate their confidence in our ability to support the development, launch and expansion of the dedicated air network that began here sixteen months ago.
"The fifteen Boeing 767 freighters we lease to and operate for Amazon, plus five more coming this year, make us proud to be a part of their growth, and we remain committed to support their efforts to delight Amazon customers around the world with exceptional service every day."
A spokesman added: "We will continue to lease and operate aircraft for Amazon under our agreements with them, as well as provide ground services for their air network wherever needed." 
Amazon has offered to relocate its Wilmington staff to Kentucky. Dave Clark, Amazon senior vice president of worldwide operations, said: "As we considered places for the long-term home for our air hub operations, Hebron quickly rose to the top of the list with a large, skilled workforce, centralised location with great connectivity to our nearby fulfillment locations, and an excellent quality of living for employees."
Amazon recently announced plans to create more than 100,000 jobs across the US over the next 18 months. It was not available to comment before publication.