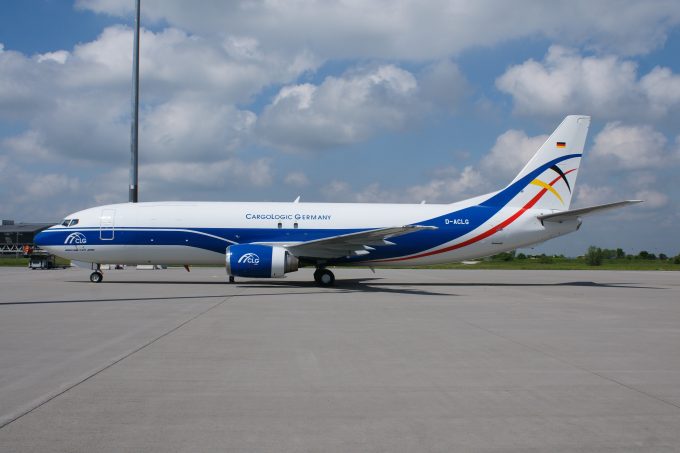 CargoLogic Germany (CLG), an all-cargo airline specializing in express cargo services across Europe, has successfully delivered horses in partnership with Intradco Global, the world's leading equine, livestock and exotics transportation air charter specialist.
Two racehorses, Cindy Truppo and Ole Bo, weighing 500 kg each, have become CLG's Boeing 737-400SF first-class passengers en route from Berlin (Germany) to Deauville (France). CLG's specialists attended to its first-ever transportation of the horses with special care, going step by step with its dedicated partner to guarantee the well-being of the animals, which were located into specifically designed collapsible stalls and provided comfortable journey, as well as enough space for the groom who accompanied the horses during the flight. Following their training program, Cindy Truppo and Ole Bo have moved to France to get better conditions for winter practice avoiding negative night temperature excursions.
Dirk Naether, CLG's CEO comments: "This is a milestone in our company's development as we have significantly expanded our product portfolio with the receipt of the license to transport live animals. After successful completion of staff training, alignment of operation procedures in line with the EU regulation 01/2005, the national regulations in Germany and IATA LAR, and building of effective relations with dedicated stakeholders to handle AVI, CLG has been granted the respective license issued by the responsible authority for Northern Saxony. We hope that our customers will benefit from our current capabilities, especially given the demand for high-quality AVI transportation across Europe and beyond".
Charlie McMullen, Intradco Global director added:  "This is great to have CLG as our supplier when it comes to horses transportation by air. We are impressed with service delivery, timely responses and their willingness to develop out-of-the-box solutions. We are also glad to have new Berlin Brandenburg Airport added to our expanding network of airport where we can handle horses shipments. And big thanks to the ground team for their great work to make that happen".
CargoLogicGermany, which received its AOC in September 2019, has been focusing on air cargo in Germany and Central Europe, in addition to extended global support for the express delivery sector. With a central location in Leipzig, Germany, the carrier can reach major cargo hubs within a 3-4-hour time range and can guarantee same-day or even time-definite delivery options.