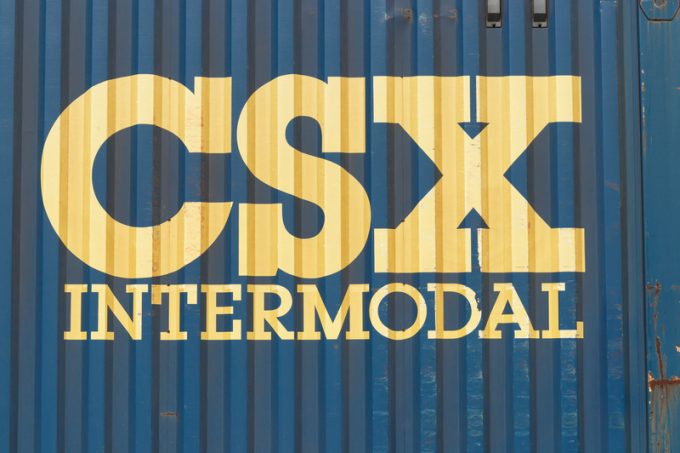 Intermodal revenues and volumes have continued to plummet at CSX, with double-digit declines reported in the second quarter after a weak Q1. 
The US rail carrier's performance directly contrasts that of Canadian Pacific, reporting, on the same day, marked increases in both income and freight transported. 
Even so, CSX chief executive James Foote remains convinced the rail operator is on the right path for long-term growth. 
"Intermodal declined primarily due to the impact of line rationalisations implemented last fall and early this year," Mr Foote said during an earnings call. 
"We'll begin to lap those rationalisations at the end of the third quarter … we're doing great stuff on the technology side on intermodal that we think is going to differentiate ourselves as well." 
Overall volumes for the three-month period fell 10%, compared with 2018, to 658,000 teu, while six-month figures show an 8% year-on-year decline to 1.3m teu. 
And despite an 11% and 8% respective revenue fall, interim chief financial officer Kevin Boone said results from the "precision scheduled railroading (PSR) transformation" were already bearing fruit. 
"Intermodal costs also saw year-on-year improvement, with lower volumes combined with operating efficiencies, driving expense reductions," he told investors. 
Executive vice president Mark Wallace added that it was important to remember the carrier was "not immune" to the wider downward trend affecting the intermodal sector. 
For CP, however, it appears intermodal is on the up, the carrier recorded a 12% bounce in revenue for Q2 and a six-month upturn of 8%, to C$784m (US$600m). 
Volumes also climbed, albeit at a slower rate: three-month volumes up 7%, to just over 266,000 teu; and year-to-date volumes up 2%, to 512,000 teu. 
Chief marketing officer John Brooks told investors: "Both domestic and international volumes were up low double digits. In fact, despite some softening in the retail sector, domestic revenues were a record in Q2." 
Some may see it as indicative of the success of the PSR model; CP integrated its PSR model under former boss Hunter Harrison. 
For more analysis on CSX, please see today's Loadstar Premium.