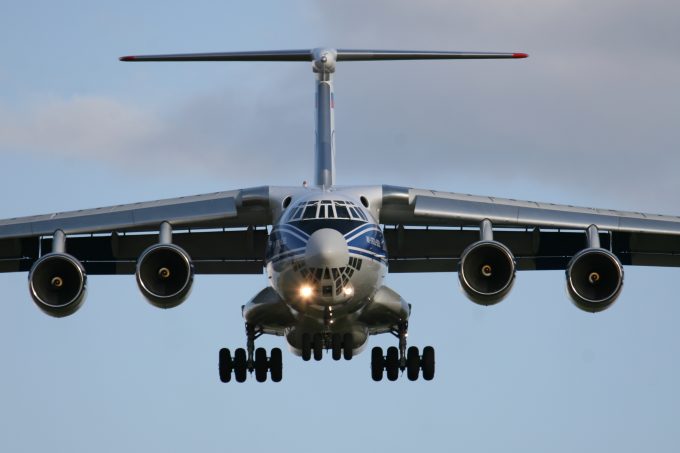 Volga-Dnepr is to cease providing AN-124 capacity for EU and NATO states under the Strategic Airlift Interim Solution (Salis) contract it shares with Antonov Airlines.
The move comes just over a year after the Russian freighter operator announced the end of the near-decade-long Ruslan collaboration to market AN-124 capacity with Ukraine's Antonov.
Citing French media, Kommersant reports that the cessation of operations will take effect on 1 January 2019, a move thought to be in response to western sanctions on Russian companies. Further media reports suggest negotiations conducted by the Salis steering board last week failed to avert the withdrawal.
During the talks, Volga-Dnepr reportedly indicated that the move was down to a new wave of US-led sanctions rather than plans to focus on civilian, commercial, and humanitarian flights.
Contacted by The Loadstar, Antonov Airlines would only say it had yet to receive any official notice of Volga-Dnepr's withdrawal from Salis.
Under Salis, Antonov and Volga have each had an AN-124 permanently stationed at Leipzig-Halle Airport since March 2006, with additional uplift available at short notice.
A spokesperson for Volga-Dnepr said the carrier would not be making a statement at this time, but a source claimed Antonov would continue its commitments under Salis.
There is always the possibility that the withdrawal is part of a larger play by Volga-Dnepr president Alexey Isaikin, who is looking to set up a German cargo airline, with AN-124s registered in Germany, at Leipzig.
The ending of the Salis contract puts pressure on NATO and the EU, which need access to the world's largest commercial cargo aircraft. By registering an AN-124 to a German company, the Volga-Dnepr group would no longer be caught in the crossfire of political skirmishes between Russia and elsewhere, which includes problems with Antonov maintenance. And as an EU company, it might get preferential treatment for military shipments over Ukraine's Antonov.
It also adds pressure on Germany, which is keen to develop Leipzig-Halle as a freight airport, to OK the new airline's AOC and aircraft registration. (Although as one source told The Loadstar, Lufthansa Cargo was unlikely to welcome a new freighter airline on its doorstep, and would "go ape-shit".)
Mr Isaikin is no stranger to political plays and has used them to his advantage before. After Volga-Dnepr subsidiary AirBridgeCargo lost about half its 21 landing slots at Schiphol last year, Russia reportedly threatened to ban Dutch carriers from its airspace. Shortly after, KLM struck a deal with ABC over additional slots.