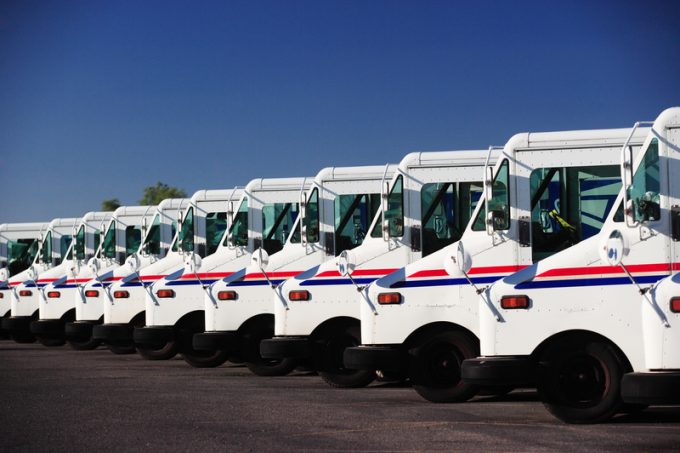 The US Postal Service (USPS) is looking to broaden its options of shipping parcels to international destinations.
It has invited public comment on a preliminary proposal to partner with private commercial services for final-mile delivery of its outbound parcel shipments.
So far, USPS has relied exclusively on other postal agencies for delivery of exports and its management argues that the lack of commercial alternatives is hampering its flexibility and ability to be fully competitive in the market.
If it obtains the green light for the proposal, USPS intends to move ahead as early as the end of the month.
But, while it is looking to broaden its appeal to international parcel shippers, USPS is reportedly planning to scale back its first-class mail service.
According to sources at the agency, first-class mail is going to be whittled down to a delivery window of three to five days. So far this has been the slower of two options, with the faster offering delivery in two days.
In addition, the plan allegedly calls for an end of shipping first-class mail by airfreight. Instead, it will move on trucks, often involving a relay of distribution depots.
This would hit FedEx in particular, which has held the USPS 'Air Cargo Network' contract since 2013, and it was extended last year to September 2024.
USPS management has not commented, but there is no doubt serious changes are on the drawing board, as the service has been struggling with performance as well as financial problems. USPS suspended the money-back guarantee for its Priority Mail Express product last month due to weather problems, but performance issues have been a weakness for some time. Merchants have complained of lengthy delays of shipments during the peak season.
"We fell far short of meeting our service targets," acknowledged postmaster general Louis DeJoy in a hearing before the US Congress on 24 February
Even more worrying are the financial results. For the quarter ended 31 December, USPS reported an 11.1% increase in revenue, to $21.5bn, but operating expenses climbed 5.3%, to $21.1bn. With other costs, especially pension funding obligations, this pushes the USPS further into the red. Last year it lost $9.2bn, and according to a report by the US accountability office, has lost $69bn over the previous 11 fiscal years.
A 25% growth rate in parcel volume to 2.1bn pieces boosted the agency's parcel business in the quarter, generating $9.3bn. However, this could not compensate for declines in the core first-class and marketing mail segments, Mr DeJoy said.
Management has drawn up a 10-year strategic plan, expected to be unveiled shortly, but there has been speculation that Mr DeJoy's tenure might be cut short, derailing his intended changes.
Measures he implemented last year, which included a reduction of operating hours, have been blamed for delays and backlogs that have plagued the service. Several lawmakers have called for sweeping changes in the USPS board that would pave the way for Mr DeJoy's departure, but new recent appointments are widely perceived to avert such a drastic change in direction. The new chairman has worked with Mr DeJoy on new strategy.
The market is waiting for indications where the USPS is headed.
"There's a lot of confusion with the USPS now. There are so many changes going on – with service levels, price…," said John Haber, CEO of parcel logistics expenditure consultancy Spend Management Experts.
The postal service raised its prices on 24 January. Some of the headline increases were in the low single-digit range, but most of the more pertinent rates went up in the high single digits. Charges for final-mile delivery of parcels under 1 lb climbed more than 10%. In addition, there is now a $100 fee for parcels that exceed the 'maximum mailable' threshold of 130 inches in length and width combined.
Mr Haber said these increases made the USPS less attractive to SME shippers, especially for bulky items. And competition for small shippers has intensified, he added.
"UPS is going hard after that market," he said, adding that margins are considerably higher than with large customers, although the latter are needed to cover fixed costs. "If your focus is on profitability, it's a good market," he said.