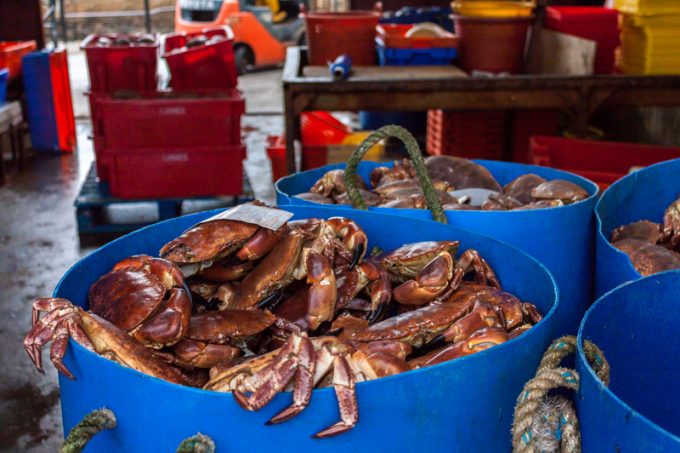 Seafood Scotland is demanding UK exporters receive the same grace period for frictionless trade with Europe as their importing counterparts, following a "collapse" in trade.
Office of National Statistics (ONS) figures released on Friday pointed to an 83% drop in fish and shellfish exports out of Scotland in January.
This led the CEO of Seafood Scotland, Donna Fordyce, to warn that UK exporters were being "choked" by post-Brexit regulations.
"We are baffled by the UK government's latest move to extend to the EU a 12-month grace period for frictionless trade," she said.
"The move is a punch in the gut for all the hard-working seafood businesses that are now on a knife-edge. A one-way trade border now exists that chokes UK exporters, but ushers in EU imports with open arms.
"We have been begging the UK government for a grace period for months, and we are repeating this call."
Speaking to the Environmental, Food and Rural Affairs Committee, CEO of the British Ports Association Richard Ballantyne said Brexit had ushered in a "complete collapse" in export prices for UK fish stock.
As a result, he said: "Communities that survive on fishing have been hammered."
Chief executive of the Cold Chain Federation Shane Brennan told the committee his biggest concern was not what had happened so far, but the "real concern that a habit of not buying from the UK will emerge from this period of hampered activity".
He added: "Looking at the situation after three months, that habit is already quite well entrenched and, while I expect that we as an industry will rebound, if that rebound is 10-15% shy of where we were this time last year, that's a real disaster."
Ms Fordyce told The Loadstar government omission of reciprocal export grace periods compounded problems for domestic fisheries wishing to instead sell to the UK, by "serving up a huge helping of EU competition, free of financial burdens".
This, she said, would not have been the case had the UK not imposed the grace periods in the first place.
"Like exports, imports would have faced several hurdles before being able to trade at normal levels had the UK not granted them a grace period," she continued.
"It is frustrating that the export market wasn't granted the same. We have been begging the UK for this for the months so were somewhat baffled by the decision to allow it for imports but not vice versa."
General consensus appears to point to an easing of problems at ports, with head of cold chain at DFDS Eddie Green noting that days' long waits for goods passing through European ports had reduced substantially, in some cases to just 15 minutes.
But what was now being exposed, he added, were underlying structural weaknesses, the cost of which would be borne by exporters.
Ms Fordyce said it was accepted that the seismic drop in January seafood exports could not be levelled at Brexit alone, with the pandemic having played its part but like Mr Green she said structural failings were becoming apparent, threatening business viability.
She added: "This may result in some concluding exporting to Europe is no longer financially viable."
Freight and Brexit: take a couple of minutes to respond to this short survey from DDC FPO and receive a copy of the full report.