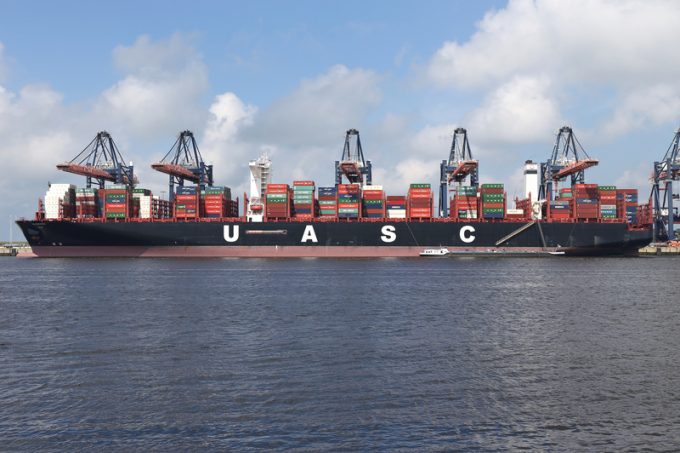 UASC has revised the upcoming UK call of its 18,800 teu AL Muraykh from Felixstowe to London Gateway, due to port congestion at the east coast container port.
In a customer advisory seen by The Loadstar, UASC offered its "sincere apologies" to customers for the late change and consequential diversion of cargo.
However, London Gateway has previously served the vessel, along with other Ocean 3 partner vessels on an ad-hoc basis, so the supply chain disruption should be minimal.
The 2015-built AL Muraykh is deployed by UASC on its AEC1 service from Asia, within the Ocean 3 alliance, together with vessel sharing partners CMA CGM and Cosco.
According to London Gateway, the vessel is due to berth late on 25 February and depart on 27 February, suggesting a sizeable discharge of containers.
However, the port of Felixstowe also pointed out that part of the problem is that the vessel has slipped behind its schedule.
"The Al Muraykh is arriving nine days late and is unable to berth immediately because the berth will be occupied by a vessel operated by an alliance partner which is due to arrive on schedule," a spokesman said.
Meanwhile, a Felixstowe source told The Loadstar this morning that all of the port's cranes had been lifted at 8am in preparation for Storm Doris, due to hit mid-morning, but that landside operations would continue as long as possible.
From April, UASC will join THE Alliance grouping along with Hapag-Lloyd (with which it is due to be merged), Yang Ming and soon-to-be-merged Japanese carriers K Line, MOL and NYK.
The updated network of THE Alliance still refers to the UK call as "UK Port" despite a range of customers and service providers being told of its five Asia-Europe loops, two will call at DP World London Gateway and three at the DP World sister facility at Southampton.
However, with just six weeks remaining before the launch of THE Alliance, an official confirmation is still awaited.
THE Alliance's decision to use London Gateway would mean that the port has successfully attracted its first direct liner services from Asia. It is also understood that THE Alliance will include two further calls at London Gateway as part of its transatlantic services.
According to Alphaliner, Felixstowe will see its Asia calls reduced from ten to nine from April as part of the alliance shake up, although the port said its overall volumes ought to increase as it will handle larger vessels as well as  welcome new customers in the shape of OOCL and Hamburg Sud.
As far as the rest of North Europe is concerned, Alphaliner said that Rotterdam would remain the "key port" after the VSA reshuffle with the loss of one weekly call each by THE and Ocean alliances, compensated by a new double call by the 2M alliance's AE1/Shogun service and the addition of Maersk and MSC's AE7/Condor string, resulting in 18 weekly loops for the Dutch hub.
In Asia, Alphaliner noted that Singapore would be the big winner, with 34 weekly calls from the 29 loops offered by the three alliances, compared with its current 29 from 27 services.
Hong Kong, going from 15 calls to 10, and Port Klang, which will go from 11 calls to five, appear to be the biggest losers from the alliance changes.
*The article was amended on 24 February to include a response from the port of Felixstowe