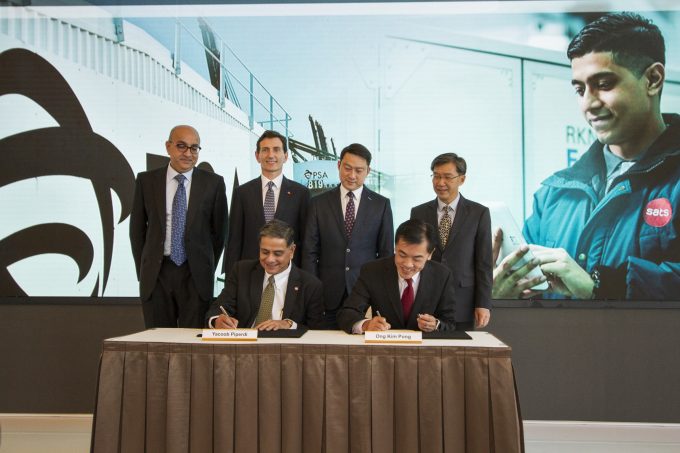 Singapore's air cargo and container freight handlers are to offer shippers and forwarders combined sea-air transhipment services through the hub.
The port has been a favourite location for forwarders' air-sea services on the Asia-Europe trade for years, UK forwarder Allport used it to serve UK fashion retailers looking for a cheaper option than pure air fright between China and the UK.
However, today's agreement, between airport services provider SATS and port operator PSA, represents a concerted effort by Singapore's authorities to secure this traffic.
It includes a vow to "collaborate on a wide range of cross-industry initiatives, particularly in the perishables, electronics, and e-commerce spaces", which would see joint track-and-trace options to ease the movement of goods between free-trade zones.
"For example, as the world's first [air cargo] ground handler to receive EU approval as an authorised establishment for the provision of meat transhipment services between New Zealand and the EU, SATS' services could potentially be extended to new trade routes across both companies' networks," a statement said.
SATS president and chief executive Alex Hungate (pictured back row, second from left) explained: "We hope our cross-industry initiatives with PSA will now enable the whole industry to market efficient multimodal solutions globally, through Singapore."
This will largely be achieved through integrating the two companies' systems – SATS's COSYS+ and PSA's CALISTA – which will be fundamental to creating greater supply chain visibility throughout Singapore, as well as aid regulatory compliance and allow large-scale multimodal datasets to be built.
Tan Chong Meng (back row, far right), group chief executive of PSA International, said: "Shippers are increasingly seeking innovative multimodal solutions for their cargo to reach their preferred markets competitively. This partnership with SATS will enhance Singapore's ability to offer unique air-sea multimodal connectivity to fulfil these demands.
"In addition, through digitally connecting CALISTA and COSYS+, we will be able to offer multimodal users greater visibility of their cargo and better protection of cargo integrity, with optimised transit times and costs."
• In a separate development, Etihad Cargo today launched a weekly scheduled freighter flight from its hub in Abu Dhabi to Changi, which will triangulate with a stop at Ho Chi Minh City, Vietnam, before returning to Abu Dhabi.
"The new service meets customer demand for more freight capacity between Abu Dhabi and Singapore, and complements the daily widebody passenger flights between the cities," said the carrier.
"These are key markets for Etihad Cargo and the opening of the direct route between Abu Dhabi and Changi supports strong economic and trade links between the cities."
Last year, Etihad restructured its network and simplified its fleet to five Boeing 777 freighters and focused on key tradelanes