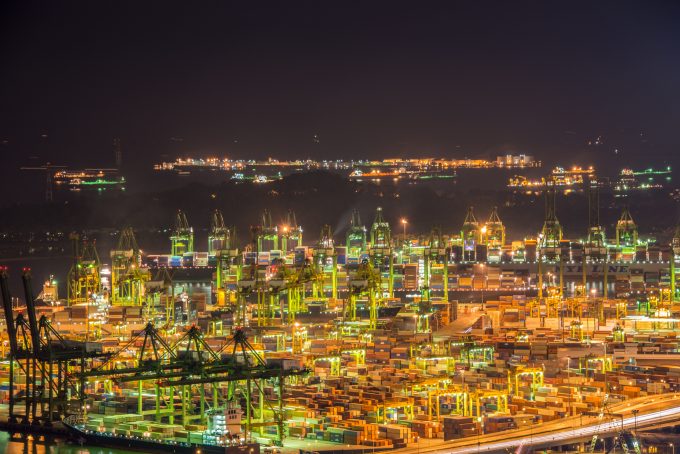 Hong Kong and Port Klang are set to lose out on Asia-Europe port calls when the Ocean Alliance and THE Alliance launch on 1 April.
According to Alphaliner, Hong Kong will be the "biggest loser" as carriers rationalise their services.
"The reshuffle on the Asia-Europe trade turns out to be very positive for the port of Singapore, which will receive five more weekly calls. This is largely at the expense of Port Klang, which will see its weekly Europe-Far East calls more than halved," said Alphaliner.
Including the 2M+HMM alliance, Singapore will receive 34 weekly calls from the 29 Asia-Europe loops offered by the three alliances, compared with its current 29 calls from 27 services.
Hong Kong will receive 7 weekly calls of North European loops and 3 weekly calls of Mediterranean loops, down from 10 and 5 calls respectively.
This is likely a significant loss for Hong Kong, according to Joanthan Beard, Asia head of transportation and logistics at Arcadia. Mr Beard said he didn't expect the port to pick up volumes from elsewhere.
Port Klang will see its number of weekly calls reduced from 11 to only 5.
According to Alphaliner, this is largely due to the purchase of Singapore-based APL by CMA CGM.
"In the wake of this purchase, the French carrier has formed a joint venture with PSA-Singapore to operate the CMA CGM-PSA Lion Terminal Pte, which will receive the westbound calls of the two loops of the Ocean Alliance that will be exclusively ensured with CMA CGM ships," Alphaliner added.
Indeed, there had been much speculation over the consequences of CMA CGM's new Singapore venture for Port Klang terminal operator Westports, with the Malaysian hub currently enjoying about one third of its volumes courtesy of the Marseille-based carrier.
Westports delivered its strongest ever full-year results in 2016, including a 26% rise in net profits and a 10% increase in volumes to 9.95m teu.
Despite the pending traffic reduction from CMA CGM, Westports maintains it can replace those volumes with new calls from other carriers, including more intra-Asia and ad-hoc cargo – a view shared by Malaysia equities analyst CIMB Research.
"We believe the remaining carriers of the Ocean Alliance will retain most of their long-haul services at Westports, as Westports is likely to be one of the cheapest ports in ASEAN.
"We think Westports will easily deliver 5.5% volume growth this year, especially with the onset of ad-hoc movements in the second quarter of 2017 when the Ocean Alliance and THE Alliance take effect," CIMB said in a research note.
Neil Davidson, senior analyst for ports and terminals at Drewry, told The Loadstar that in general terms the alliance reshuffle is good for ports receiving more calls and bad for those losing them.
However, he added a caveat: "Having said this, we need to keep in mind that the number of calls is one thing but the number of boxes exchanged per call is another important factor. A port might see less calls but more boxes per call, which might at least in part offset the reduced number of calls."
Mr Davidson said the strength of a port's local cargo base is also key.
"Port Klang is interesting in this respect because it has a large, local gateway cargo market that isn't going to be shifting to Singapore. However, the transhipment activity is more footloose and definitely more at risk."
He also said that it was clear internal tensions between alliance partners had impacted decisions on port call choices and frequency.
"For example, one of the new Ocean services from Asia to North Europe will, unusually, call at two neighbouring hubs on the same westbound leg (Tanjung Pelepas and Port Klang) – on the face of it, unnecessary. It seems likely that this is only happening because individual member lines have had to have their own demands and needs recognised," said Mr Davidson.