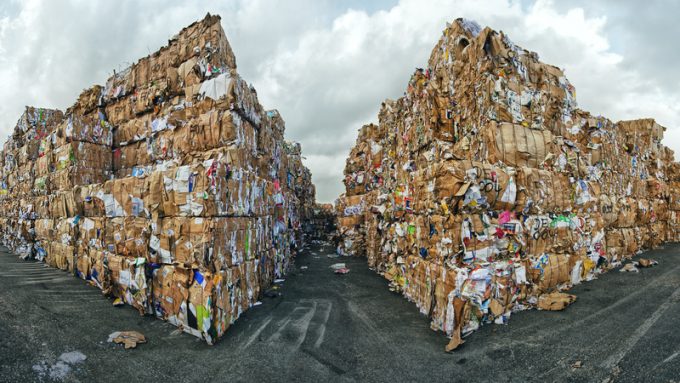 Six months after the implementation of verified gross mass (VGM) requirements, traditional anxieties in the freight sector are holding back progress.
Parties are reluctant to accept much-needed technological evolution, according to Gary Waters, global logistics director at Cycle Link.
Recycled paper shipper Cycle Link was one of the first adopters of blockchain technology, developed by UK freight forwarder Maritime Transport International (MTI), called SolasVGM, to transmit VGM data.
However, Mr Waters tells The Loadstar, some shipping lines appear reluctant to allow their shippers to use the technology.
"We are able to send data to most carriers, but there are some out there that are not accepting SolasVGM," he said. "These carriers want shippers to use their own platforms."
He argued that adapting to the new regulations had not been as fast as it could have been, with reticence among players in the community to embrace and accept the blockchain technologies that make meeting VGM requirements possible.
"Carriers see the benefit, but for one reason or another they are too used to the way they do things. Getting them to sign up to new ways of practice is not happening," he said.
"Progress is good and we are heading in the right direction but things could be better."
MTI's system has so far processed 13,000 transactions and Jody Cleworth, chief executive of MTI, said the shipping industry was starting to realise the benefits of digitisation But he added a lot still remained to be done. Each party in the container supply chain – ports, carriers and forwarders – continue to operate different systems and processes.
"This means shippers must spend time and money sending multiple forms of documentation and waiting for responses," said Mr Cleworth. "We're helping our customers, like Cycle Link UK, reduce costs and speed up the processes by offering a service that is open, adaptable and works with existing systems."
Mr Cleworth said that by sharing information securely, blockchain technologies could help remove bottlenecks and allow quicker processing of shipments – and he added that the more people that signed up, the easier the process would be for everyone.
Mr Waters said Cycle Link UK had had to commit significant resource to meet the new VGM regulations.
"We had to hire two new members of staff to meet the VGM requirements," he said. "For the first three months of using SolasVGM, we were having to enter the details for each individual container. However, we worked with MTI to adapt the system to multiple entry, which has freed up one of the two new recruits to help elsewhere in the team."
The main benefit of the SolasVGM system, which was developed by MTI in partnership with big data firm Black Swan, is that by using blockchain technology it can communicate with all systems transmitting data by Electronic Data Interchange for Administration, Commerce and Transport, commonly known as EDIFACT or EDI.