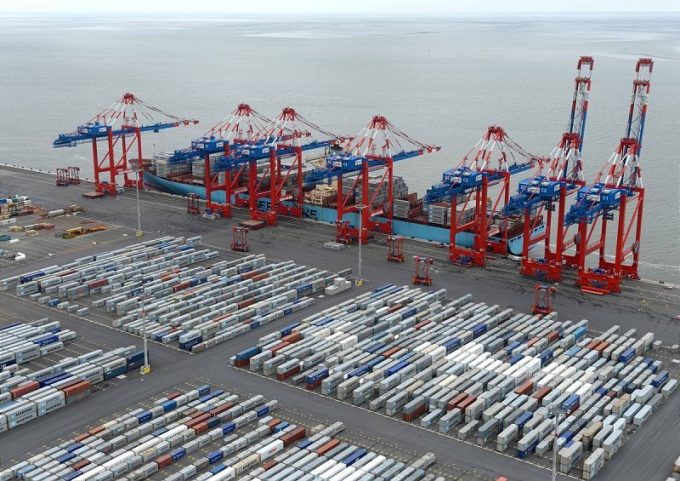 Although still unconfirmed by carriers – giving greater credence to Drewry's view that a lack of coordination within the major container shipping alliances could lay the ground for chaotic scenes at ports once the new groupings start on 1 April – it would appear that the latest port to claim a major scoop is Wilhelmshaven in Germany.
The port is at the western mouth of the Weser, across from the container port of Bremerhaven and built largely on the back of loans from the Lower Saxony state, which was keen to add to overall port capacity in the region, given that Bermerhaven has little room left to grow.
It opened in 2012, but had little traffic until the 2M partners brought a weekly call when the alliance began operating at the beginning of 2015.
However, today the port's operator, Eurogate, announced it had been included as a weekly call in the Ocean Alliance's Asia–North Europe 1 service.
It is the alliance's flagship loop between Asia and Europe, according to Alphaliner, "the largest in terms of capacity as it will deploy 11 ships averaging 20,000 teu, comprising six newbuildings of the OOCL Hong Kong type of 21,100 teu capacity and COSCO's five 18,980 teu flagships (CSCL Globe and sisters)".
Alphaliner also reported that a call at the Polish hub of DCT Gdansk is also set to be included in the service – the Ocean Alliance's original scheduled published in November had merely alluded to "Baltic port(s)".
This indicates that the grouping may be looking at some form of twin-hub strategy for the Baltic, as Wilhelmshaven's limited hinterland links have made it a terminal almost purpose-built for transhipment activity.
However, a Eurogate statement also claimed: "With this, Wilhelmshaven is expanding its offer in particular for export shipments to Asia."
Michael Blach, chairman of Eurogate, said: "We are delighted that with Ocean Alliance we have attracted four additional shipping lines – COSCO Shipping, CMA CGM, OOCL and Evergreen – to Wilhelmshaven. This is a significant success that we have worked long and hard to achieve.
"The fact that two of the three major shipping alliances will visit Germany's only deepwater port will give Wilhelmshaven a new growth spurt – also with respect to the portfolio of additional transport and logistics services."
The full rotation of the Asia-North Europe 1 service is: Shanghai-Ningbo-Xiamen-Yantian-Singapore-Felixstowe-Rotterdam-Gdansk-Wilhelmshaven-Felixstowe-Singapore-Yantian-Shanghai.
In fact, Wilhelmshaven's roster of lines will also expand to include Hamburg Süd and Hyundai Merchant Marine from April. once their operational cooperation with Maersk Line and the 2M Alliance begins.
Last year, the port handled 481,720 teu, a growth of nearly 13% over 2015, in a year in which both Bremerhaven and Hamburg saw volumes stagnate.