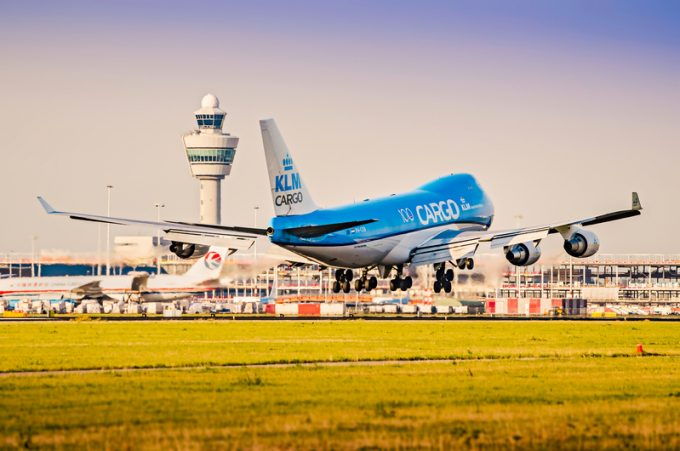 Amsterdam Airport Schiphol saw full freighter flights rise 48.1% in the first half of the year, but total cargo volumes fell 14.5%, owing to the decline in belly traffic.
The news came following a row in the Netherlands over how Schiphol has served freighter operators, and the future shape of air cargo in the country.
A webinar organised by Dutch paper Nieuwsblad Transport, reported by CargoForwarder, revealed Schiphol had lost cargo volumes from major network forwarders to other airports, such as Liege. And KLM came under fire for dominating the airport, while the carrier, the airport and Dutch authorities were accused of being too close.
"If KLM is getting taxpayers' money, it could re-pay that debt by providing the necessary air cargo capacity to the Dutch economy," said air cargo analyst John Klompers.
Analyst Paul Parramore agreed that KLM was too dominant at the expense of other carriers and added: "The port of Rotterdam is the largest in Europe, could you imagine them turning away foreign carriers?
"The slot limitation has already chased away AirBridgeCargo, which might never come back. For this, AirCargoNetherlands should have fought on the barricades as early as that. It is up to them to engage in talks with the policy makers at The Hague."
Shippers also want more full freighter flights, said Rogier Spoel, airfreight advisor of evofenedex.
Carriers have recently told The Loadstar they do not feel Schiphol – and other airports – are taking cargo seriously enough.
"Airports frequently admit they are not turning their attention adequately to cargo," said one source.
"My blood boils when I see a note from Schiphol stating 'long-term goals are important to us as we continue to work towards shaping Europe's smartest cargo hub and collaborating with our valued cargo community'. Reading between the lines, it is talking about belly freight. This is synonymous with all major EU airports."
While full freighter flights were up 48%, freighter volumes only rose 12.4%. Inbound cargo fell 11.5% year on year, while outbound fell 17.6%, said Schiphol.
Despite the declines, however, Schiphol rose from fourth to third-busiest cargo hub in Europe in the first half of the year.
"Schiphol's figures and operations were heavily impacted by the Covid-19 outbreak and, from early this year, the decline in passenger aircraft led to a decrease in belly volumes," said Bart Pouwels, Schiphol's head of cargo. "Air traffic movements are now showing signs of recovery, which is positive.
"The extra belly capacity on intercontinental routes helps the air cargo market in Amsterdam to better serve its customers."
The airport's biggest market, Asia, saw inbound declines of 8.1%, while outbound fell 17.5%, with the airport affected in particular by the steep drops in the flower market.
The airport added that the future was "uncertain", but Maaike van der Windt, director aviation marketing, cargo and customer experience said: "We are seeing passenger flights increasing, which means an increase in belly capacity, but it is important we move along with customer needs and make sure all demands are accommodated as well as possible."