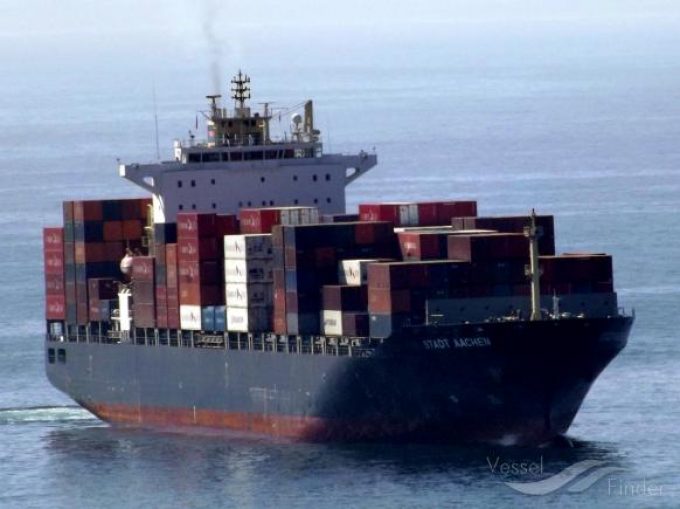 UPDATE: This article has been changed to reflect that there is no relationship or affiliation between Safetrans and Trasfar Shipping.
Safetrans Line has launched a liner service linking China with Morocco and Russia, joining several other newcomers on the Russian lane.
According to Linerlytica, the St Petersburg Direct service, calling at Qingdao, Shanghai, Ningbo, Nansha, Tangier (irregular), St Petersburg and Qingdao, began yesterday with the newly chartered 3,469 teu Heng Hui 2.
Meanwhile, three chartered ships from Zhonggu Logistics, of 3,398-4,872 teu, which Singapore line Transfar has diverted from its waning transpacific service, will soon join the loop, as will three more in April to boost frequency.
In its latest report released yesterday, Linerlytica remarked: "One year after the Russia-Ukraine conflict started on 24 February 2022, there have been significant shifts in the Russian container shipping landscape after sanctions shut off most of the traditional Baltic trade to Russia."
Players unfazed by sanctions targeting Russia have jumped into the fray, with newcomers such as Safetrans, Torgmoll, Reel Shipping and OVP Shipping adding ships to the trade.
Congestion at the Russian Far East gateways of Vladivostok and Vostochny have generated demand for new services from Asia to the Black Sea and Baltic gateways of Novorossiysk and St Petersburg.
MSC retains a considerable presence in the Russian trades with feeder operations in all three Russian gateways while reputational risks have seen the other key European carriers withdrawing completely from the market.
Linerlytica analyst Tan Hua Joo told The Loadstar: "The Russian market is booming due to high cargo demand, with the Vladivostok gateway currently severely congested and carriers are opening new services to the Black Sea and Baltic gateways. Depending on which gateway, rates are highly elevated, starting from $6,000/feu."
OVP, originally an LNG tank shipping business that was established in 2020, began container shipping operations connecting Vladivostok and Novorossiysk with China in June 2022. This week, OVP will offer connections to St Petersburg through slot purchases on Safetrans' service.
Linerlytica estimates there are now 89 ships totalling nearly 92,000 TEU, serving the Russia Far East trade.
Russian container carriers have been acquiring tonnage to meet healthy demand, even as the overall freight market is bleak.
Anecdotal accounts from ship brokers indicate that FESCO and other Russian interests have been actively buying ships, as freight rates for Russia-linked routes remain steady.
Alphaliner reported that in the last 18 months, FESCO has purchased four boxships, with the latest additions being the 2008-built 698 teu FESCO Tatarstan (ex JRS Corvus) 2010-built 704 teu Acacia Ming, which were bought from Chinese owner Goto Shipping for $8.1m and $10m, respectively, in January.
FESCO Tatarstan has been carrying cargoes between Russian Far East ports and Asia, while Acacia Ming is pending delivery to the Russian operator, which just launched a new service linking Russia, India and Turkey.
FESCO currently owns 17 ships with capacities ranging from 508 to 3,091 teu, making it the 43rd largest liner operator, with total capacity of over 29,000 teu. FESCO appears to be renewing its fleet, having sold the 1998-built 1,740 teu Vladivostok for demolition in January.
Russian forwarder Transit LLC, which launched its Russia-China liner service in the wake of international sanctions targeting Russia's invasion of Ukraine, had bought its second ship in October. The 2005-built 660 teu Transit Lugovaya (ex Run Xing) was bought from Qingdao China Gem Ship Management, three months after the 2008-built 704 teu Transit Shamora (ex Run Chang) was purchased from the same owner. Supplementing its owned pair are six chartered vessels, taking Transit's total capacity to 5,500 teu, making it the 100th largest liner operator.
Brokers also told The Loadstar that Malaysian feeder operator MTT Shipping had sold the 2000-built 1,740 teu Pasir Gudang to Russian interests for $10m in January. The ship has been renamed Crystal St.Petersburg and reflagged from Malaysia to Sierra Leone. While the identity of the beneficial owner appears to be obscured, Crystal St.Petersburg is now classed by the Russian Maritime Register.