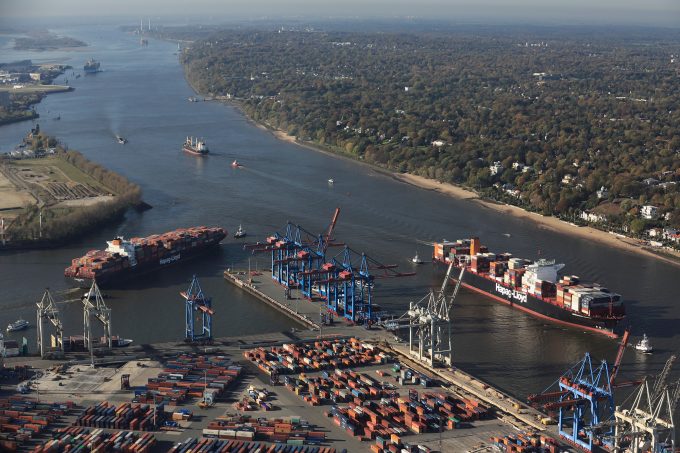 Ocean carriers appear to be returning to the port of Hamburg after commencement of river Elbe deepening and widening projects.
And, as a spin-off, the port is regaining its status as the biggest transhipment hub for the Baltic.
Container handling at Hamburg was up 6.9% in the first nine months of the year, compared with the same period of 2018, to 7m teu, growth significantly higher than the 3.4% average achieved by rivals Rotterdam and Antwerp.
The above-par expansion was attributed to the port's container terminals winning four new transatlantic services operated by Hapag-Lloyd and ONE and the launch of four complementary Baltic feeder services.
In the first nine months, Hamburg handled 439,000 teu on container services to the US, Canada and Mexico – a massive 336,000 teu higher than the year before.
"Including the existing liner services, we can offer port customers 14 direct links with 29 ports in the US, Mexico and Canada," said Ingo Egloff, joint-chief executive of Port of Hamburg marketing.
"An additional 15 feeder and liner services in the first nine months provides a clear indication that the port of Hamburg is now even more attractive for shipping and shippers."
Elbe deepening finally got under way in July after a 13-year battle through Germany's courts. The two-year operation involves dredging the lower and outer sections of the river and construction of a 385-metre 'passing box' for vessels.
It has been calculated that ULCVs calling at Hamburg will be able to exchange an extra 1,800 teu of cargo per visit when draught restrictions are eventually lifted.
Indeed, as ULCVs have grown to be capable of accommodating 23,000 teu, Hamburg has lost business to hub rivals because of its tidal and draught limitations. Carriers have long complained that their networks were being disrupted and under-utilised due to the navigational restrictions and have often been obliged to 'sail light' at a preceding port, thus sacrificing revenue-paying export loads.
The number of calls of ULCVs at the port with slot capacities of 18,000 teu-plus soared by 18% during the period, to 123 vessels, and with 23,000 teu behemoths now becoming the new normal on the Asia-North Europe trade, that number is set to increase.
According to Mr Egloff, this underlines the importance of the passing box now under construction, as incoming ULCVs can be temporarily held to allow the passage of an outgoing vessel that would otherwise have had to wait on or just off the berth.
The regeneration of Hamburg's transhipment business has been impressive, with a total of 2.6m teu transhipped from deepsea vessels to feeders for a 4.3% growth.
Also particularly impressive was the port's 12% expansion of its intermodal rail traffic, to 2.06m teu, in the first nine months of the year – in the process, it topped its previous quarterly record to reach 698,500 teu in the third quarter.