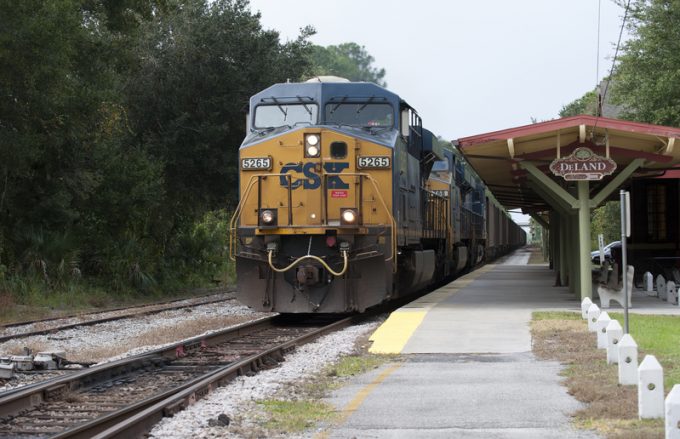 The closing quarter of 2017 will be one to forget for US rail operator CSX: the untimely death of chief executive Hunter Harrison coinciding with declining intermodal volumes.
Volumes for the three months to December dropped by some 5% to 719,000 tonnes, with intermodal revenue falling 1% to $471m.
However, despite this, quarterly revenue per unit climbed 4% to $655, and the dent failed to offset full-year figures, indicating that Mr Harrison's move to 'precision railroading' was working.
Chief executive James Foote said: "CSX's performance… was built upon the scheduled railroading model instituted by Hunter Harrison.
"I'm excited about the progress we are making and am confident we have the right team in place to achieve our goal of becoming the best railroad in North America."
Full-year volumes grew 1% on 2016's numbers of 2.8m tonnes to 2.84m tonnes, generating some $1.8bn in revenue, up 4% and a 3% increase in revenue per unit to $633.
Another former employer of Mr Harrison, Canadian Pacific (CPR), also reported a healthy 2017 and saw increases in volumes and revenues during the fourth quarter.
Income over the 12 months hit $1.1bn (C$1.36bn), a year-on-year increase of 4%, while quarterly revenues grew 7% to $290m. Revenue per unit surged upwards in the last three months of the year to some 16%, with full-year RPU growing 2% year-on-year.
Volumes were also up 3% for the full year, and 2% for the fourth quarter, and chief executive Keith Creel described the three-month period as a "record in almost every measure".
Mr Creel added: "Over the course of 2017 we built momentum thanks to our strategic approach to growth combined with our continued focus on operational excellence.
"That momentum has us well positioned to start 2018 and we look forward to delivering another year of record results in a safe and disciplined manner."