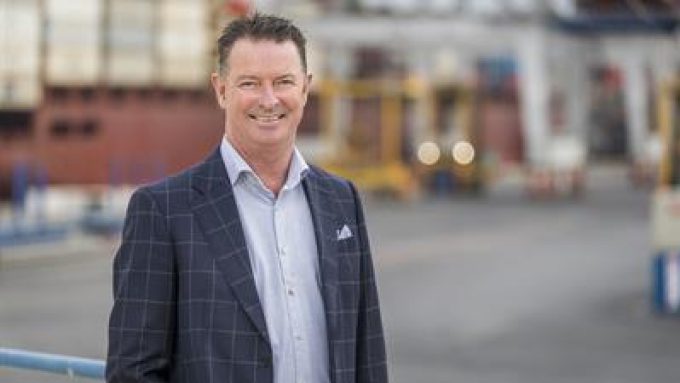 Ports of Auckland chief executive Tony Gibson (pictured above) announced he would step down at the end of June, citing "persistent and sometimes personal attacks" on him.
"This has been a difficult decision," he said today.
"I love working at Ports of Auckland. It is an organisation full of absolutely wonderful people doing amazing things.
"Over the last few months there have been persistent and sometimes personal attacks on me as CEO. I feel that this focus on me is damaging to the company and to the great people that I work with. It is taking our focus off what is really important – delivering change.
"I can't let that continue, so for the sake of our people and the good work that they do, I have decided to step down," he added.
Controversy has surrounded New Zealand's largest box port recently – there have been three deaths there in accidents during the past three years, and in March, Auckland Council published a health and safety report which found "systemic problems at POAL [Ports of Auckland Ltd] in relation to critical H&S [health & safety] risk management and organisational culture that relate to H&S".
The Maritime Union of New Zealand said: "As CEO, Mr Gibson engaged in an anti-union agenda, failed to provide a safe workplace and was responsible for an automation project now years behind schedule. No other port in New Zealand had seen such problems."
However, Mr Gibson, who was appointed to the role in 2011, defended his record.
"As I go, I want to pay tribute to the people of Ports of Auckland. This is a company which is often in the media in a bad way, over port expansion, port location or more recently over safety and congestion. Sadly, there is little media attention on the great things our people have achieved in the last 10 years.
"Our people have transformed the business from one which couldn't afford to invest in necessary infrastructure to one which has earned hundreds of millions of dollars for Aucklanders. They have successfully delivered multiple projects such as the new deep-water container wharf, a new car handling building and three container handling cranes," he said.
Ports of Auckland chair Bill Osborne said: "Tony has been a transformational CEO over the last 10 years. His vision, drive, skills and leadership have been essential in delivering the change that was desperately needed when he started in 2011.
"I am sad to lose someone of his calibre, especially at a time when the company is again going through major change. However, I understand and accept his reasons and wish him well."
Deputy CEO and CFO Wayne Thompson will be interim CEO.