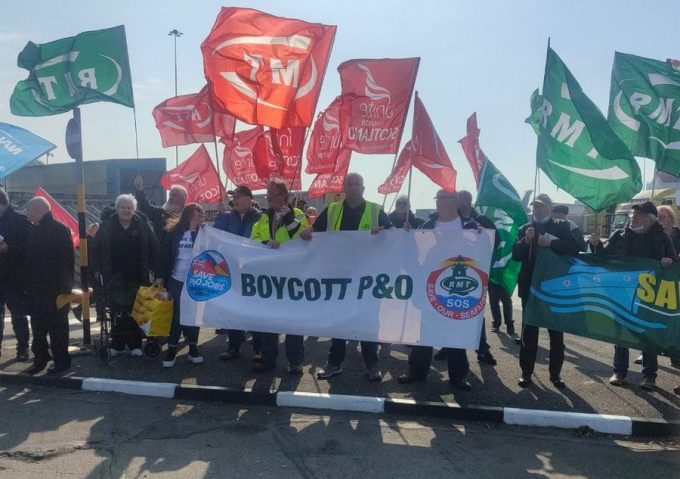 UK prime minister Boris Johnson said the actions of P&O looked like "criminal activity" – just hours after the DP World-owned ferry line offered a £36.5m ($48m) 'hush-money' package to the 786 seafaring personnel it sacked last week.
The pay-out is not, apparently, compelled by any mechanism of UK labour law, as P&O Ferries claims its workforce is exempt.
However, it is understood the recipients will be required to sign non-disclosure agreements, demanding they not disparage the company in the wake of the massive public backlash against last week's Zoom-based mass dismissal.
The £36.5m would mitigate a portion of the £50m tax break parent company DP World is enjoying as part of the UK's 'Freeports' scheme.
RMT general secretary Mick Lynch called the package "pure blackmail and threats", and claimed it was a case of pay in lieu of notice being misconstrued as a redundancy payout.
"Pay in lieu of notice is not compensation. It is just a payment staff are contractually entitled to, as there was no notice given," he said.
"If staff do not sign up, and give away their jobs and their legal right to take the company to an employment tribunal, they will receive a fraction of the amount put to them," added Mr Lynch.
David Ashmore, employment law partner at global law firm Reed Smith, told The Loadstar it remained to be seen whether a cost-benefit analysis of the redundancy package would bear detailed scrutiny.
"The question now is whether the unions/employees will be pushing for a figure that reflects their full rights – eg, unfair dismissal + notice + a punitive award for noncompliance. In certain situations, it may cost less for an organisation to pay the penalty costs than to comply with the legal requirements, but recent events have shown that the reputational damage can be very high," he added.
In Monday's debate in the House of Commons, Sir Roger Gale, Conservative MP for North Thanet, revealed that the government was told, by an "acutely embarrassed" P&O CEO Peter Hebblethwaite, that the order for the sackings "came straight from the top [of DP World], not from P&O".
The chair of the all-party parliamentary transport select committee, Huw Merriman, said: "It cannot be right… that people who work between the UK and France, where the minimum wages are just short of £9 per hour," would be paid "only £1.90 — approximately 20% of what they should be paid", and added that it would be impossible to attract young Britons to join the maritime industry.
"P&O Ferries' decision will contribute to neither of those key aims," he said.
"We have been here before with British Airways and we know that money cannot be claimed back, but there is an ethical point here… If the government has legal and commercial powers at its disposal, it must use them immediately and indicate that contracts will be terminated unless P&O reverses its decision," he said in speech to parliament.
Mr Merriman pointed out that P&O had benefited from "millions in furlough payments" and that it had failed to notify the business secretary "at least 45 days" before the sackings, which he described as "criminal liability".
However, it has since emerged that an amendment, signed into law by then transport secretary Chris Grayling in 2018, removed the requirement for the secretary of state to be notified of mass redundancies on ships registered overseas.
Nevertheless, the PM said in a speech today, his party "…condemns the callous behaviour of P&O" and "will not sit by", saying the government would be "taking action" and "encouraging workers to take action".
Mr Ashmore also told The Loadstar P&O Ferries could be facing a substantial fine over its handling of the redundancies.
"There has been a lot of comment and confusion about how the law works in this area," he said. "The bottom line is that, provided an employer complies with any applicable UK government notification requirement, realistically there would be no criminal liability. However, there are punitive financial sanctions for noncompliance with the requirement to notify trade unions and consult.
"For UK-based staff, it is hard to see how there would be any defence to this if there has been no prior warning at all of the dismissals. In that scenario, realistically the employer would be hit with the full penalty of 90 days' pay per employee – 25% of the annual wage bill," he explained.
"For employees based outside the UK, whether they are protected depends on the degree of connection to the UK. For example, any employee with a UK base would normally be protected by UK law."