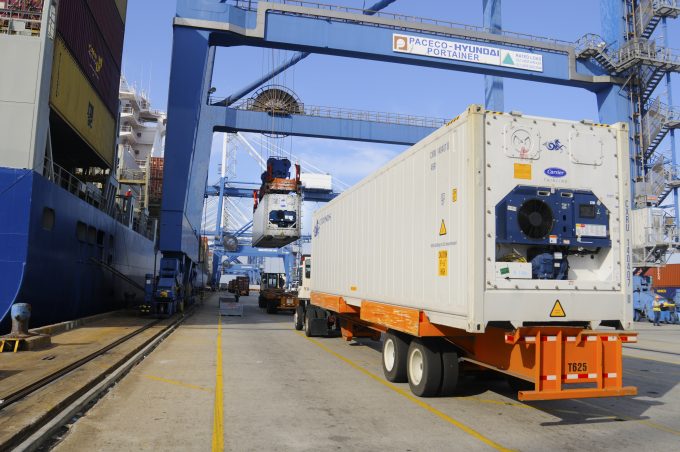 Recession-proof reefer shipping continues to outpace dry cargo growth, while worsening equipment shortages and carrier reliability provide opportunities for perishables specialists.
In its Reefer Shipping Annual Review and Forecast 2020/21 report, Drewry says seaborne perishable cargo growth slowed in 2019, but, due to broader resilience in the food supply chain, it would better weather the economic fallout from the Covid-19 crisis than dry cargo.
The slowdown last year saw worldwide reefer trades recording just 1.7% growth, to 130.5m tonnes, the weakest rate of growth since 2015.
Drewry says this was largely due to extreme weather conditions in Europe and drought in South Africa and Chile, which saw lower shipments of both deciduous and citrus fruits.
Soaring pork traffic into China following the outbreak of African swine fever there mitigated some of these volume losses, however.
Nevertheless, Drewry forecasts the rate of growth picking up again, to 3.7% a year, through to 2024, which would see global reefer volumes reach 156m tonnes.
Head of reefer shipping research Philip Gray said: "Drewry expects the reefer trade to be more recession proof against the economic impacts of Covid-19. And near term, it will continue to benefit from African swine fever-induced protein demand into Asia.
"The continuing trade standoff between the US and China remains a threat to transpacific trade, but could provide opportunities on other routes, such as east coast South America to Asia."
The modal shift from conventional reefer shipping will also help growth in reefer container cargo to fast outstrip that of the wider container shipping market. For example, last year the volume of reefer cargo carried by containerships expanded by 3.4%, to 5.3m feu, and Drewry is forecasting 5% annual growth up to 2024, "far outstripping" dry cargo.
"However," added Mr Gray,"availability of refrigerated shipping container equipment remains a challenge, due to the highly imbalanced nature of reefer trade routes.
"And Drewry expects conditions to tighten as equipment fleet growth is not expected to keep pace with projected cargo demand."
According to Rafael Llerena, CEO of reefer logistics specialist EasyFresh, this is a big problem, but is surpassed by capacity shortages.
"During the coming months, we will keep seeing reefer equipment shortages everywhere, even if the carriers invest in more equipment," he told The Loadstar.
"This is because of bigger ships, fewer port calls and reduced capacity during the pandemic, combined with the complexities of food logistics – numerous production and consumption areas and increased product varieties versus the classic reefer trade legs."
But Mr Llerena said the situation would provide "excellent opportunities" for 3PLs.
"It means room for shortsea and multimodal solutions, linking with the major container hubs," he explained. "For example, Easyfresh ships tropical produce from Rotterdam or Antwerp to Scandinavia, cross-docking at our cold stores and delivering cargo at the retailer's DC earlier than using the carrier's established feeder link."
As well as equipment shortages, poor carrier schedule reliability is another major logistical headache for perishables players.
"Delays, rollovers and cancellation of calls are severely harming the certainty of the seaborne part of the cold chain, affecting retailers who have fixed delivery and loading windows," said Mr Llerena.