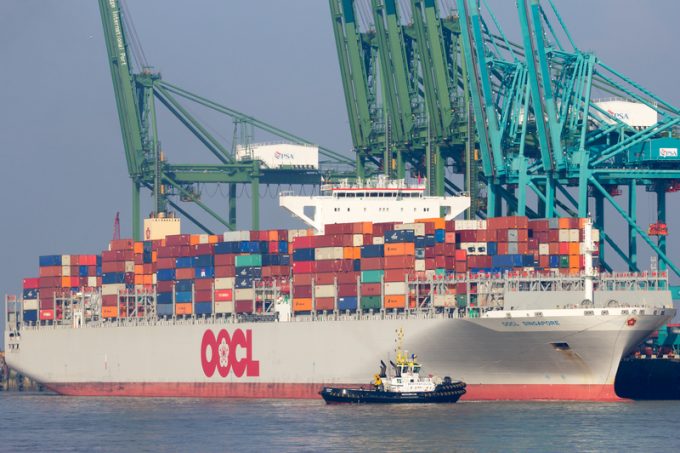 After reporting a huge $7.1bn net profit for 2021, Orient Overseas (International) (OOIL) said that, due to the "uncertainty of market trends", forecasting beyond the first half of this year had become "even more difficult".
The Cosco Shipping subsidiary said on Friday the container shipping market "situation remains very similar to what we saw during 2021", for its liner arm, OOCL.
"Demand still appears resilient and continuing congestion and disruption around the world mean that there is considerable pressure on available space and consequently high demand for our services," said OOIL.
With the first quarter of the year almost gone, it added it seemed unlikely that this situation would change materially during the first half, but it was much less sure about the outlook thereafter.
"Even if the outlook, from a purely container shipping perspective, continues to encourage cautious optimism, at least in the near term, we are mindful of other events that could impact performance in the next few months," said OOIL.
OOIL listed Covid-19 outbreaks, geo-political events and high inflation as examples of the headwinds that could prove challenging for its 2022 full-year results.
At the top line, OOIL's revenue last year more than doubled that of the previous year, at $16.8bn, of which $15.7bn was contributed by OOCL. The carrier's liftings increased by 1.7%, to 7,587,158 teu, for an average rate of $2,067 per teu – more than double its average for 2020.
The biggest market gains were on the Asia-Europe trade, where OOCL recorded a 9.8% increase in carryings, to 1,642,449 teu, and a massive 204% boost to its revenue, to $4.7bn, for an average rate three times higher, at $2,844 per teu.
OOIL attributed the above-industry volume increase on OOCL's Asia-Europe services to its ability to use slots on Cosco vessels, while its rivals struggled to secure additional tonnage and equipment to meet demand.
Moreover, Cosco appears to be channelling the majority of its growth strategy through its subsidiary, evidenced by the current orderbook for the OOCL brand.
Last September, OOCL placed an order for ten 16,000 teu ships for delivery between the last quarter of 2024 and the end of 2025. This was in addition to the 12 23,000 teu ULCVs already ordered for delivery during 2023 and 2024.
The combined Cosco and OOCL orderbook is currently 34 ships, for a capacity of 586,672 teu, of which the latter will receive the majority – 22 vessels for 436,000 teu.
Cosco Group and CMA CGM swapped places in the liner rankings last year, due to the French carrier's aggressive raids in the second-hand ship market, which the China state-owned line and its subsidiary largely avoided.
According to Alphaliner data, CMA CGM is currently third in the carrier rankings, with a total capacity of 3,274,870 teu on 578 ships, versus Cosco's 2,929,324 teu for 476 vessels.