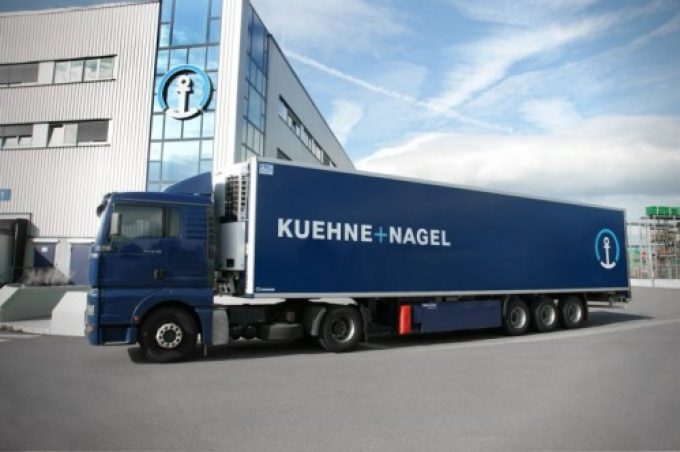 Strong sea freight volumes helped Kuehne + Nagel hit "solid" results for the first nine months of 2019, despite the poor air freight market and "non-existent" peak season.
The Swiss forwarding giant increased its nine-month group net turnover by 3.1% year on year, to Sfr15.8bn (US$15.9bn), generating a 6.6% upturn in profit (ebit) which hit Sfr794m.
The company's sea freight business "grew significantly in a stagnating overall market," K+N said, with volumes increasing 4.3% to 3.67m teu. This led to a 7.3% boost in sea freight net turnover, and a 10.2% jump in profit to Sfr357m.
K+N chief executive Detlef Trefzger said: "Against the backdrop of consistently tense global markets, Kuehne + Nagel once again delivered very solid results.
"In sea freight and overland in particular, our focus continued to be on customer service, cost efficiency and digitalisation. In the more volatile air freight business, earnings remained stable, with the acquisition of Quick having a sustained positive impact."
The air freight market continued to decline in an environment of global economic uncertainty and rising trade barriers, K+N said. As a result, the forwarder's air volumes dropped 6.4% year on year, to 1.22m tonnes, while net turnover fell 2.6%, leaving profit down 3% to Sfr263m.
"Still the business unit was able to significantly increase gross profit, especially in the areas of pharma and healthcare, perishables and time-critical shipments," K+N added.
In an earnings call with investors, Mr Trefzger said the air freight market was under pressure and continuing to deteriorate, especially in the automotive and hi-tech sectors, but the company had not lost major business – instead, customers were "down-trading" due to changes in demand.
Furthermore, there was "no peak season to speak about," he added, referring to both air and ocean markets.
In sea freight, where K+N added an additional 152,000 teu, Mr Trefzger said the energy, projects, reefer and less-than-containerload sectors contributed strongly to growth and gross profit.
"In the third quarter, we added 49,000 teu to our volume, which was even 13,000 teu more than in the second quarter," added chief financial officer Markus Blanka-Graff. "So, despite the fact that there is a slowdown, there is still the ability for the organisation to gain market share."
The company also claimed a strong performance in its overland business, which grew "well ahead of the market". Net turnover increased 2%, with profit up 8.8% to Sfr62m.
"Groupage shipment volumes in France and Germany remained firm," K+N said.
"In Austria and Eastern Europe, Kuehne + Nagel strengthened the overland transport network with the acquisition of Jöbstl Group. In North America, key accounts remained the largest growth driver, while the intermodal business further weakened, due to falling oil prices."
Improved capacity management helped improve gross profit in the overland segment, Mr Trefzger added. Additionally, he said, the company's new digital road freight platform, eTrucknow, was already "showing traction" in Asia.
Head of Loadstar Premium Alessandro Pasetti said the interim update was "respectable, but well short of exceptional."
"Yesterday's results showed combined air and ocean ebit of Sfr620m, which is a touch light and could have been higher," he said.
You can see K+N's nine-month results here, and our analysis on Loadstar Premium here.