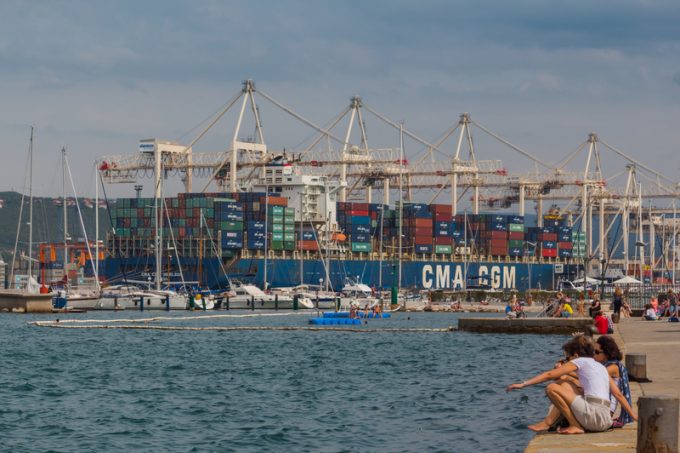 Slovenia's port of Koper has reinforced its position as the largest container port in the Adriatic as new services from Egypt provide an upsurge in reefer traffic.
Terminal operator Luka Koper handled a record 844,000 teu and 749,000 cars in 2016.
And, according to Luka Koper sales and marketing manager Milena Jerman, the port enjoyed growing perishable cargo flows as more shippers recognised the benefits of the strategically located port.
"Besides our traditional clients, we gained new customers from Egypt with more container lines calling and improved transit times," she told The Coolstar.
"The biggest rise in imports were Egyptian fruits and vegetables, and particularly grapes where we handled 1,200 40ft reefer containers within just six weeks."
Koper now has six shipping lines calling from Egypt, including three-day connections from Damietta, Alexandria and Port Said.
Once in Koper, perishable imports can reach most of Europe in under two days. Just 500km away, Vienna, Budapest and Bratislava are some of the most popular hinterland destinations, as are the UK, Netherlands, Poland and Scandinavia, particularly for grapes, peppers and spring onions.
Ms Jerman said one advantage Koper enjoyed was that its customs clearance and inspection is available on weekends, unlike some competing gateways.
"We also prioritise the handling of reefer cargo when it arrives. Soon after the vessel is berthed the containers are delivered to the neighbouring reefer terminal and unloaded into the cold store, where phytosanitary and quality checks are carried out.
"If no special check or samples are requested, trucks with customs-cleared goods can leave the port area within a few hours," she added.
Koper's perishable exports increased last year too – particularly apples from Poland, energy drinks and juices.
"Polish apples was a new cargo flow and when the exporters started to recognise the via-Koper option, and its benefits for some destinations, they improved the volumes which doubled over last season to 4,000 teu," Ms Jerman said.
In addition to vessels calls, earlier last year Koper began loading south-to-north Europe reefer block-train services as part of the EU's Fresh Food Corridors (FFC) project. The service cuts six days from an ocean voyage from Israel to northern Europe.
A good railway network and regular train services are key for Koper. An average of 62 cargo trains a day call at the port, resulting in 60% of all port throughput being covered by direct rail connections.
Ms Jerman said the FFC project had gained a lot of interest from the market, including back-haul journeys, and more rail services were planned.
Meanwhile, a key factor in the growth of dry container volumes has been Koper's inclusion in the Asia-Europe networks of three of the deepsea alliances – 2M, Ocean Three, and CKYE.