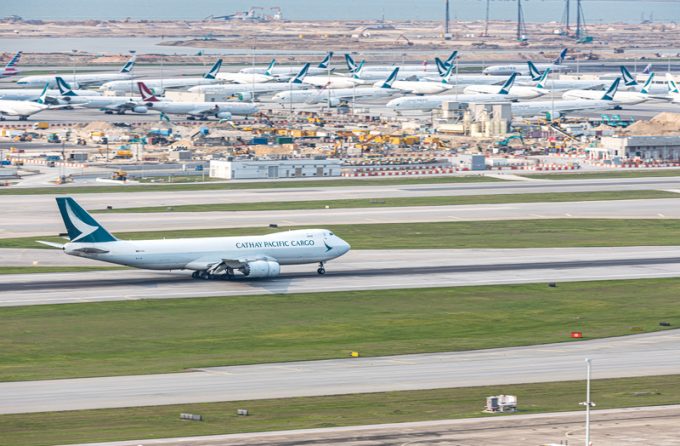 Hong Kong's latest Covid restrictions have forced Cathay Pacific to drastically slash capacity, likely to mean a resumed operating cash burn from next month.
Cathay flew 134,691 tonnes of cargo in December, up 12% year on year, but down 24.1% compared with the same period in 2019, while capacity was up 6.5% year on year, but down 32.9% on 2019.
Cathay CEO Augustus Tang said: "In late December and then in early January, the Hong Kong SAR government further tightened aircrew quarantine requirements and travel restrictions. These measures will have a significant impact on our passenger and cargo flight capacity.
"While we are fully committed to increasing our cargo capacity when conditions allow, for January, cargo has reduced to 20% of its pre-pandemic capacity and passenger flights have reduced to around 2%."
Indeed, this month The Loadstar reported how Hong Kong's flight bans and new quarantine rules had resulted in seriously throttled-down flight schedules and freighter operations, with freight forwarders reportin a 30%-40% surge in logistics costs.
Cathay was dragged into the controversy over Hong Kong's handling of Omicron and its quarantine rules when two former flight attendants were arrested and charged with breaking home isolation rules.
And the Hong Kong government is reportedly investigating whether the airline broke a quarantine exemption policy by allowing aircrew to return on cargo flights, according to the South China Morning Post.
Meanwhile, as a result of the capacity reduction, Mr Tang said Cathay expected to begin an operating cash burn of HK$1bn-$1.5bn (US$128.4m-$192.6m) a month, from February.
He added: "Until conditions improve, we are doing everything in our power to maximise capacity and estimate that mitigation measures to increase crew resources will enable us to operate approximately 5% more cargo flight capacity than currently.
"We continue to operate freighter services to the Chinese mainland and regional destinations, as well as a daily freighter operation to North America. The shipment of goods to and from Europe and the south-west Pacific is being served by passenger aircraft carrying only cargo."
Cathay said its cargo volumes of 1.3m tonnes last year helped stem its full-year financial losses, estimated at HK$5.6-6.1bn, compared with 2020's HK$21.6bn.
"The improvement was primarily driven by strong cargo demand, high cargo yield and load factors, together with continued focus on effective cash and cost management," the airline said.
Listen to a clip of Neel Jones Shah, Flexport, on how airline capacity ex-Asia is being impacted by Omicron lockdowns, from The Loadstar Podcast.