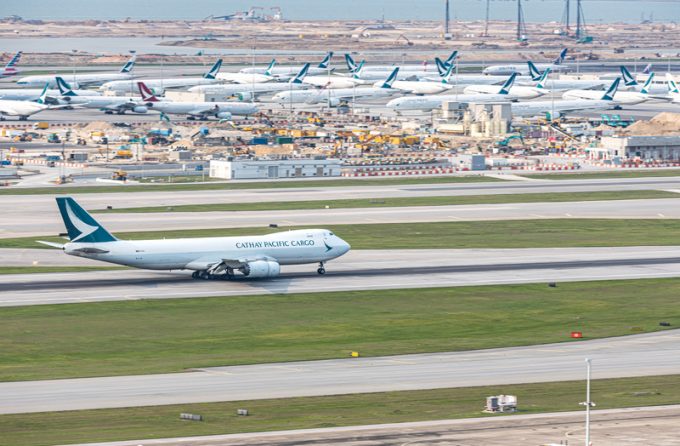 Things went from bad to worse for airfreight shippers and forwarders in Hong Kong yesterday, as the territory's government banned more international routes in response to an increase in Covid-19 cases.
It announced flight bans from eight countries for two weeks, starting on Saturday, affecting all flights from the US, Canada, the UK, France, Australia, the Philippines, Pakistan and India.
And, in a separate announcement, the authorities barred flights from South Korea after three passengers tested positive for the virus on arrival from Seoul.
In less than six weeks, Hong Kong has imposed flight bans on 24 routes. The latest affect the likes of Air Canada, Air India and Philippines AirAsia, but Hong Kong-based Cathay Pacific has borne the brunt of these measures.
When the authorities tightened rules and voided quarantine-related exemptions for flight crews late last year, management announced it might be forced to merge passenger and cargo flight schedules, but after further restrictions on 30 December, the airline announced it was suspending all longhaul cargo flights – freighters and passenger aircraft deployed on cargo missions – for seven days.
Director of flight operations Chris Kempis explained that it was impossible to transition overnight to closed loop operations and that management needed time to consider all factors, including hotel availability for quarantined crews.
Today, Cathay announced the resumption of longhaul freighter flights, but at a seriously throttled-down level.
"We regret to inform customers that due to the latest aircrew quarantine measures imposed by the Hong Kong SAR government in view of rising Omicron cases around the world, there will continue to be very substantial reductions to Cathay Pacific Cargo's longhaul capacity in the first quarter of 2022," the cargo division posted on its website.
For the most part, the airline will deploy its freighters on shorter sectors. Throughout the quarter, Cathay (CX) will operate seven weekly freighter flights to the Americas and none to Europe.
The hits on the airline's cargo flights have made it harder for forwarders to secure lift out of Hong Kong.
"Cathay is the 800-pound gorilla out of Hong Kong," said Neel Shah, VP airfreight at Flexport, while Simon Yam, executive director – international freight forwarding of the Hong Kong branch of Kerry Logistics, added: "Any impact on CX would definitely impact Hong Kong's position as an aviation hub in the global supply chain."
He added that Kerry had been able to move its traffic on its own controlled lift and charters, and both he and Mr Shah noted that the impact had been relatively moderate so far, as cargo volumes are usually low at this point.
Kelvin Leung, CEO, DHL Global Forwarding Asia Pacific said: "We are monitoring the situation and are working closely with customers to determine the best course of action for affected air freight shipments.
"If needed, we can utilise alternative capacity and tap on our broad range of partner carriers who are less affected by the new crew quarantine policy. DHL Global Forwarding also runs additional charter flights on the transpacific route.
"We also offer alternative transport modes that include trucking into Pudong airport in Shanghai and Zhengzhou airport for uplifting to the US and Europe markets."
Mr Shah expressed concern that the situation could deteriorate quickly as infection rates continued to climb.
"It's not as if the airport is completely buried in freight, but it will be soon if there is no relief," he said.
Bob Imbriani, VP corporate development of Team Worldwide, said Hong Kong's origin traffic had diminished over the years, but the airport remained a major connecting point, so the flight reductions would have repercussions beyond the local market. Team has used Hong Kong as a transit hub, but currently doesn't move airfreight through the airport or use Cathay.
Forwarders including DHL GF have routed traffic from southern China through other gateways, such as Guangzhou and Shanghai, but some are finding limited options as other carriers have also been affected to a lesser extent by the Omicron wave, which is taking a toll on flight crew availability.
"Every airline is being hit by the impact of Omicron," said Mr Shah, and Mr Imbriani added: "Cathay is just the tip of the iceberg."
Forwarders have to spend significantly more time finding solutions for individual shipments, as schedule reliability has been undermined, he added. In some cases flight capacity is available, but there is no trucking capacity to get freight to the airport in question, he said.
"We have to triage," Mr Shah said. "We take it day by day; we're trying to get visibility a week out."
Mr Leung added: "As we have learned over the past year, such disruptions will not be the last, we have to adapt to the new normal."