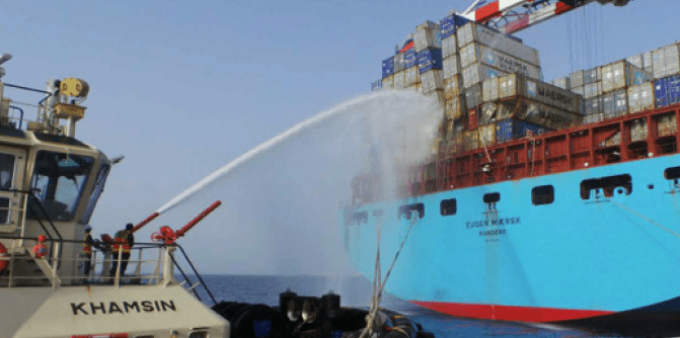 Maersk Line has retained its position as the world's largest container shipping line, according to Alphaliner.
The Danish carrier had a total operated capacity of 3.01m teu across 584 ships at the beginning of the year, compared with nearest rival MSC's 484 ships for 2.67m teu.
Maersk grew its fleet by 4.1% in 2014, while MSC's fleet grew by 5.2%, although it has a larger orderbook of 43 ships for 572,720 teu versus Maersk's 31 ships for 405,910 teu.
One surprising aspect of the companies' 2M alliance, notes Alphaliner, is that Maersk was able to significantly reduce capacity on the Asia-Europes route over the course of 2015, which was partly due to its vessel sharing agreement with MSC and the withdrawal of the Asia-North Europe AE9 and Asia-Black Sea AE3 services, as the two joint services mainly deployed Maersk Line tonnage.
The consequence for Maersk was that it was able to cut its high exposure on the troubled trade by decreasing its capacity on the route by 26% to 670,000 teu.
However, Maersk increased the capacity it deployed between Asia and North America by 24% and by a massive 223% between Europe and North America as a result of the 2M co-operation.
Despite deploying less tonnage on Asia-Europe, the 2M alliance has not insulated Maersk completely from the pain of overcapacity. According to Alphaliner data, the carrier currently has one of its Triple-E vessels, the 18,340 teu Maersk Munkebo anchored off China as a result of its blank sailings to mitigate weak demand.
And Maersk could find itself at a further disadvantage this year against its main rivals if overcapacity and weak demand continues to plague the industry. Alphaliner data shows Maersk has a significantly lower percentage of chartered-in tonnage – 41% of its vessels are leased, compared with 61% for MSC and 67% for CMA CGM.
In difficult times carriers look to off-hire chartered ships to reduce operating costs, in the knowledge that they can easily pick them up again when the market starts to improve.
Meanwhile, third-placed CMA CGM saw its fleet expand by 11.1% last year to 1.82m teu across 460 vessels, and will add a further 85 ships (535,000 teu) to its portfolio if it completes its proposed takeover of APL.
Meanwhile, Hapag-Lloyd  just managed to regain the fourth ranking from Evergreen with a total capacity of 932,822 teu against the Taiwanese carrier's 931,849 teu, despite operating fewer ships – 173 against Evergreen's 192.
Evergreen's orderbook is much bigger: 41 ships equating to 395,770 teu against Hapag-Lloyd's modest five-ship order (52,500 teu).
However, in due course both Hapag-Lloyd and Evergreen will be usurped by the merger of state-owned Chinese carriers Coscon and CSCL, which currently lie sixth and seventh respectively in Alphaliner's carrier chart.
As it stands, the merged entity would operate 291 ships for a total capacity of 1.55m teu, thus propelling it comfortably into fourth place in the top 20 rankings.