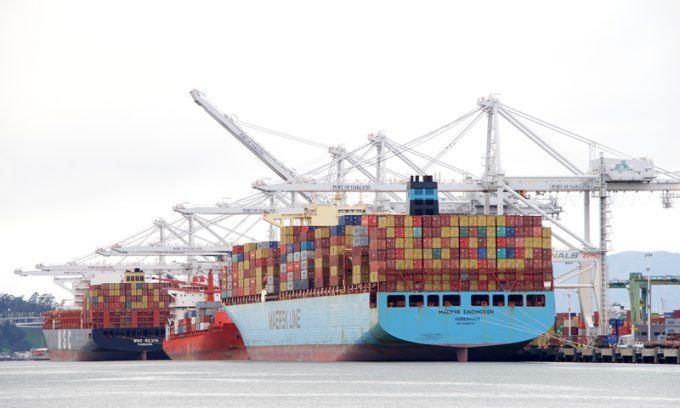 Maersk Line today confirmed that 260 containers had been lost overboard from the Maersk Eindhoven this week on the Pacific. 
The vessel was en route from the Chinese port of Xiamen to Los Angeles when it encountered heavy weather on Wednesday evening, which is understood to have caused an engine failure. 
"We are in the process of conducting an investigation into the accident – our preliminary findings indicate that an engine stop and loss of manoeuvring in rough seas, leading to severe rolling, was the reason," said Maersk today. 
The company also confirmed the vessel had abandoned its destination and was seeking a port of refuge in Asia. 
"Despite the challenging conditions, the vessel has been successful in turning around and we are currently assessing nearest suitable port options in Asia to berth the vessel.  
"We will keep you informed of the port location decision and timing to best handle the discharge of cargo," it told customers. 
The 2010-built vessel is deployed on Maersk's TP6 loop/MSC's Pearl service and is the sixth casualty report involving container losses in the transpacific in the past 80 days.
More than 3,000 boxes have been spilled since the beginning of December – a month after a World Shipping Council report said the annual average loss of containers overboard from circa-5,000 container vessels in operation around the world was "surprisingly low", at 1,382.  
The run of container losses on the route began on 30 November when the ONE Apus lost around 1,800 boxes in heavy weather, damaging many others in the process.  
Most recently, on 16 January, the 13,092 teu Maersk Essen, a sister ship of the Maersk Eindhoven and deployed on the same loop, lost around 750 containers during heavy seas.