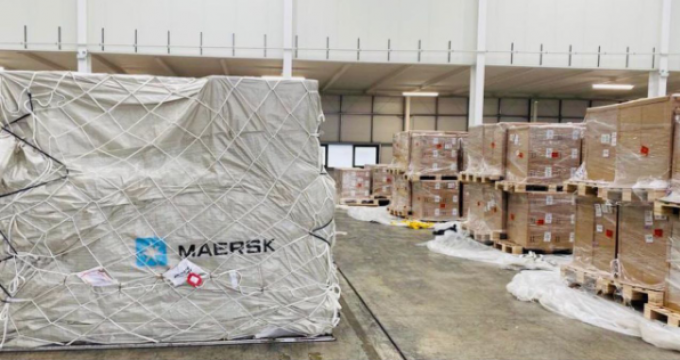 Maersk Air Freight seems to have rather shot itself in the foot, in PR terms anyway.
Showing off its "integrated power under the new organisation", it has posted images of a 747 air charter it arranged, from China to Europe, for a hi-tech customer.
"We can transport via ocean, inland and air with our amazing teams around the world," crowed the MD for China.
Unfortunately though, the images it used showed pallets sitting on the ground in warehouses: which is not 'Best Practice'. In fact, according to one veteran air freight handler, "it's disgraceful".
David Ambridge, former head of WFS in Thailand and a veteran of the cargo handling business, told The Loadstar he thought it looked like the pallets had been built up by Maersk, but did admit it was "too difficult to see to be sure – but regardless, whoever did the build-up should be ashamed of themselves".
The airline appears to be CAL Cargo Airlines, but the identity of any handler is not clear.
Mr Ambridge explained that both the shipment and equipment could be damaged.
"The only way to move [these pallets] is by scooping them up off the floor with a large forklift. This is against industry policy, because it causes extensive damage."
Henrik Ambak, who has been instrumental in developing handling initiatives and policies in air cargo, added: "Sad to see this is still out there."
Maersk may still have some way to go to convince the market of its air freight prowess.