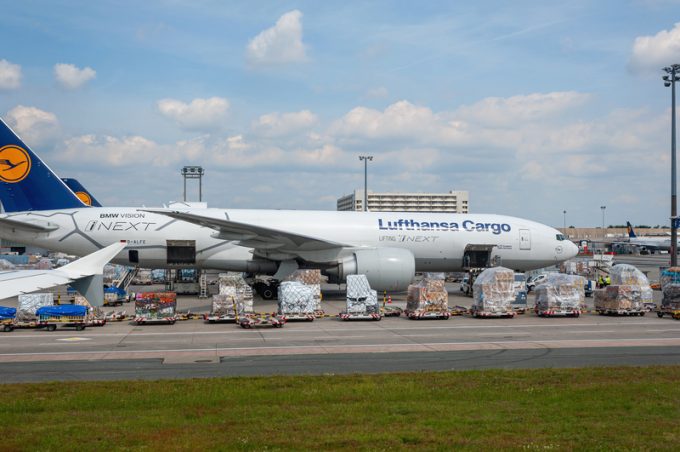 As the air freight market reheats after a fortnight's lull, Lufthansa Cargo has blamed a high volume of cargo for its decision to "pause" its capacity guarantee.
It told customers that, "due to tense capacity availability, we are forced to pause the capacity guarantee of all speed options for continental flights out of Frankfurt, Munich, Vienna and Brussels".
The "pause" started last week and will last until the end of February.
While Lufthansa Cargo may be busy, one European forwarder said he hadn't seen any problems with air freight so far this year.
"We pay to play and, to be frank, there have been very few offloads. Once it is allocated it is moved. Carriers aren't overbooking flights. If anything, on-time departure has improved."
But figures released over the weekend suggest air freight is tightening in advance of the Chinese new year holiday, starting 12 February .
The last two weeks of 2020 saw volumes drop week on week by 17% and 20%, followed in the first week of 2021 by a 14% rise, according to WorldACD.
All-in rates have fallen from $3.22 in the last week of 2020, to $3.11 in week 1 this year and forwarders are expecting this to rise.
"After a two-week break, it seems the market has picked up this week," said one Singapore forwarder, citing general rate increases from all airlines this week.
"A few charter routes are back on track this week as well," he added. "E-commerce cargo is one of the major drives behind it.
"I assume there will be a couple of peak weeks pre-Chinese new year, but we won't expect very strong rates of the level of back in November."
Chinese new year (CNY) this year looks set to be slightly different. The Chinese government is suggesting workers do not return home, which mean factory closures are likely to be more staggered than usual.
"Production may be slow, but will not stop, and there is potential for containers to still be loaded and sent to port," Ligentia told customers.
The Singapore forwarder added that he didn't think the situation was "anything special", however.
"I think the majority of the factories will do it the normal way for CNY. Yes, some of the local authorities are calling on people to stay where they are to minimise travelling. But it is not mandatory."
Problems in the sea freight market, including lack of containers and very high rates have led to some shippers looking to use air freight instead. The Singapore forwarder said some lines had dropped rates "a bit", citing OOCL as an example.
"It is not much though," he said. "I see it more as a gesture to reflect the recent noise from the market complaining about a captive/monopoly market by carriers.
"But everyone expects rates to drop post-CNY, as it is usually a slow season anyway."
However, the European forwarder added: "I can't see rates dropping far post-CNY, there is still too much control from lines. They will cut back capacity and hide some more of their containers … but it will soften for sure. How far? Looking at the current FAK market, it could halve and still be ridiculously high.
"The traditional seasons will not be what they are normally – unless importers stop importing due to the cost. I know various customers who are moving away from Asia now, due to shipping costs."
This was backed by an article on the BBC yesterday, which quotes a trampoline maker saying it was becoming "uneconomic" to ship from Asia.
"For the first time ever, the ocean freight outweighs the cost of the item," in some cases, he said.